6 reasons to make a Cake Bowl today
We were all fans of smoothie, açai, poké and buddha bowls and now there is finally their sweet sister that we home bakers -without perhaps even realizing- had been waiting for all this time: the Cake Bowl. After months of quarantine, the world could use some joy. And joy it was which FunCakes brought into this world by introducing this delicious, sweet food bowl. If the pictures don't already make you grab the bowls from the kitchen shelves, here are 6 reasons why you really want to make a cake bowl today.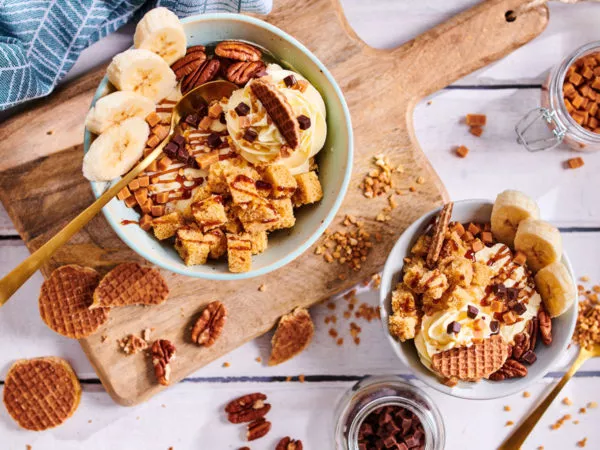 1. It is your ultimate guilty pleasure and more
It is not surprising that we already loved all predecessors of the Cake Bowl. It does something to us, eating from a bowl. It is friendlier, more informal, gives us a sense of security. Leaving the table manners for what they are for a minute, keeping the boring plates with knives and forks in the cupboard and allowing ourselves to spoon food from a bowl. Nice and comfy, cause even under a blanket on the couch we can eat from bowls without making a mess. And now there is the cheat version of such a food bowl. Filled with cake, buttercream or whipped cream, chocolate and fruit pieces. The kind of joy you can never get enough of.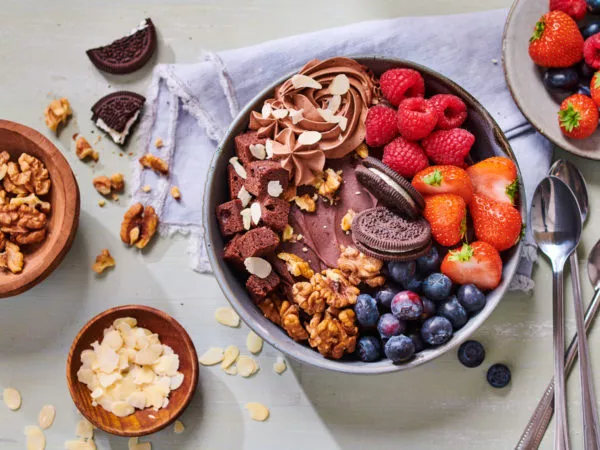 2. They look irresistibly delicious
They are really perfect looking treats those Cake Bowls. They splash from your Instagram feed with their cheerful colours and creamy tufts. The beautiful top layer from which all those delicious ingredients can't seem to stop staring at you, leaves nothing to the imagination. Hello instant cravings! It makes them hard to resist and our suggestion is to just not do that. So say yes to this ultimate happiness and get started with one of these cake bowl recipes today. Because yes, you can make this too. Smoothing a cake or piping a perfect swirl may be quite a challenge, but in a bowl all those ingredients suddenly look surprisingly professional.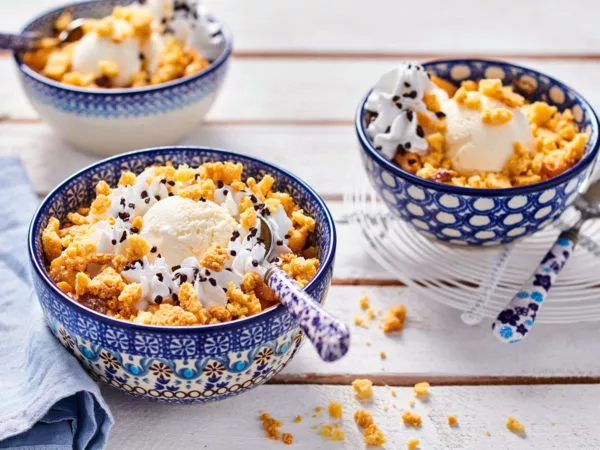 3. Literally anything is possible - mix and match as much as you want
Bring your favourite baking ingredients together in a cake bowl to create your ultimate guilty pleasure. Whether you use a real cake or light sponge, a firm or lighter cream, a filling that becomes stiff or not – it doesn't matter as much as when baking a cake or cupcake. The bowl will make sure to keep all those ingredients in line. So forget about all those characteristics and just choose ingredients based on their flavours. A cake, cream, drizzle, chocolate, sprinkles, fruit and nuts and you're good to go. Check which FunCakes products you have left at home and let them come together in your next cake bowl!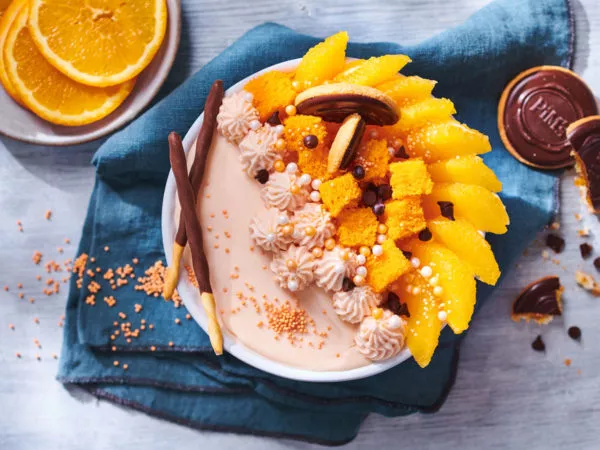 4. Your leftover cakes and creams are just enough for a cake bowl
Making one or two pieces of cake from some leftover batter or filling just isn't that easy. But in terms of quantities, a cake bowl is nothing more or less than a slice of cake. And in a bowl small quantities of ingredients work perfectly! So fill a bowl with your leftovers and it's cake bowl time!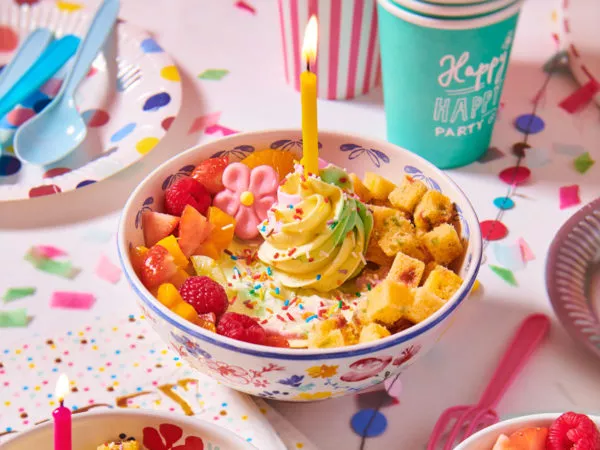 5. It is the ideal treat for birthdays, babyshowers and weddings
From one or two cakes you already cut enough slices of cake to prepare cake bowls for a large group of guests. Many supermarkets, home furnishing shops or webshops nowadays sell beautiful, kraft disposable bowls and spoons. That is not only environmentally conscious, all those identical bowls on a table look great and it saves you a lot of washing up. Your guests eat it easily standing and you save yourself from clumsy situations when cutting the cake. Note our words, soon a sweet table won't be a sweet table anymore without cake bowls.
Do you bake cakes to order? Then look online for disposable paper bowls with a lid! That way you can easily give the cake bowls to your customers. Stacked in crates, they are much easier to transport than a double barrel or multi-layered wedding cake and you also immediately respond to this new trend!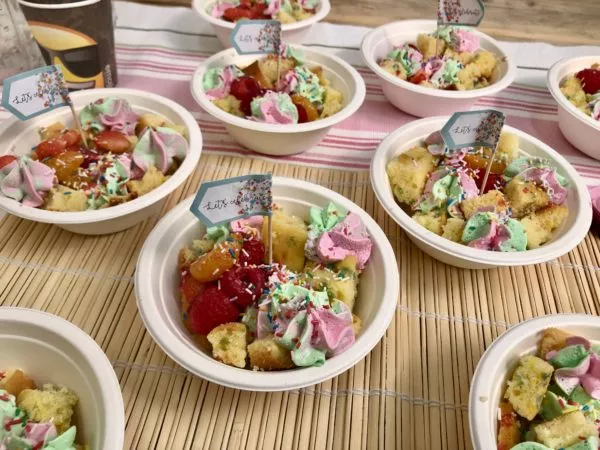 6. Cake Bowls are the new way of decorating cupcakes at children's parties
Decorating slices of cake: it is the classic activity on a children's birthday only half a year later you will still encounter the nonpareils between the cracks of your wooden floor. You can't blame the kids, because on such a flat piece of cake and a disposable plate, those sprinkles simply lead a life of their own. Luckily there's cake bowls! Score some disposable bowls in small children's sizes and let the birthday kid and his or her friends fill them with slices or pieces of cake, sprinkles and cream out of decorating bags. This will also prevent the kids from building towers of cakes because when making cake bowls there is one rule: filling is allowed up to the edge of the bowl. Nice and clear. Want more useful tips for a baking party with children? View our checklist!
Wanna get hungry?
Click here for more cake bowl inspiration!