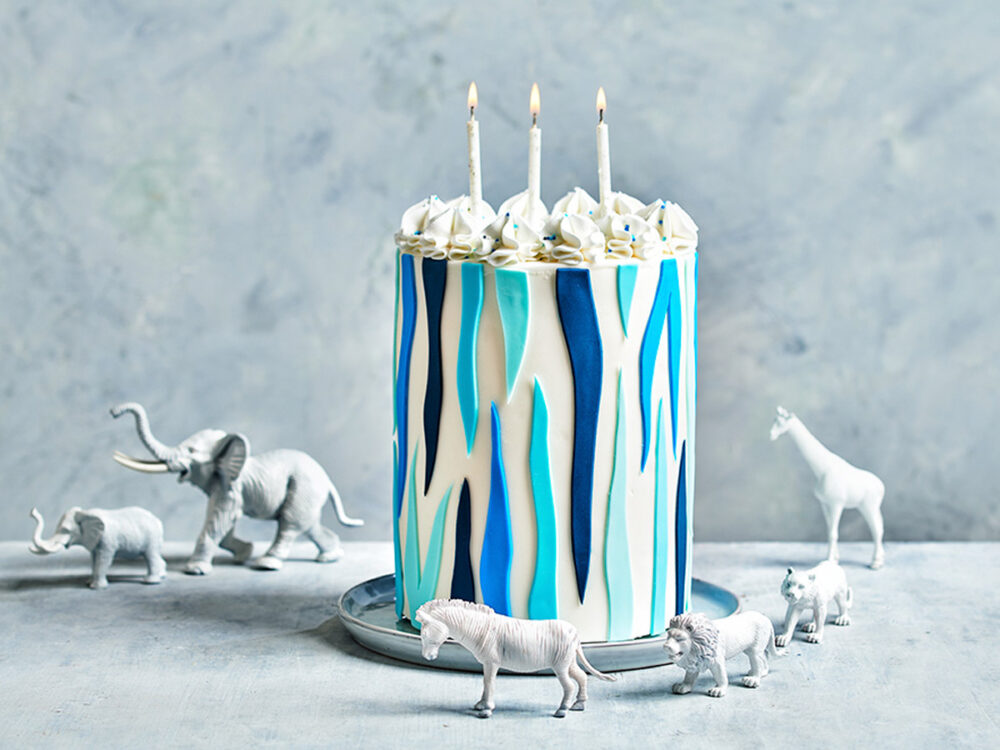 Zebra cake
Get ready for a wild ride with our Zebra Cake – the dessert that brings out the inner artist in you! This playful creation will mesmerize your eyes with its whimsical stripes, all dressed up with our vibrant Sugar Paste. Prepare for a cake that's as fun to make as it is to admire, because life is too short for boring desserts!
1 hour and 45 min. preparing
What you need to make your zebra cake:
Ingredients
500 g FunCakes Mix for Sponge Cake Deluxe
200 g FunCakes Mix for Buttercream
250 g FunCakes Mix for Enchanted Cream
FunCakes Flavour Paste White Choco
850 g FunCakes Sugar Paste White
FunCakes Sugar Paste Multi Pack Blue
FunCakes Nonpareils Shark Mix
FunCakes Bake Release Spray
FunCakes Edible Glue
500 ml water
250 g unsalted butter
8 eggs (approx. 400 g)
Necessities
FunCakes Decorating Bags
FunCakes Cake Cards Silver/Gold – 15 cm
Wilton Decorator Preferred® Deep Baking Pan Round Ø 15x7,5cm
Wilton Rolling Pin 50cm
Wilton Comfort Grip Spatula angled 22,5 cm
Wilton Cake Leveler
Wilton Decorating #1M Open Star
Witon Basic Turn Table
PME Moddeling tools cutting wheels set/ 2
Preheat the oven to 180 °C (convection oven 160 °C) and grease the baking pan with Bake Release Spray.
Prepare 250 g FunCakes Mix for Sponge Cake Deluxe as directed on the packege. Bake the cake for 30-35 minutes. Let the cake cool down by using a cooling grid. Bake a second sponge cake using the same quantities.
Prepare 250 g FunCakes Mix for Enchanted Cream® as indicated on the package. Flavour the Enchanted Cream with the flavouring paste.
Cut both cakes 2x with the cake cutter and fill with Enchanted Cream®. Start and finish stacking with a bottom of a biscuit and put a cake carton cut to size in the middle.
Spread a thin layer of buttercream all over the outside and let it set in the fridge for 30-45 minutes. After this, spread the cake again with a slightly thicker layer of butter cream and let this also set in the fridge.
Knead the FunCakes Sugar Paste White smoothly and roll it out into an oblong piece that fits around the cake. So line the side of the cake with this first. Then roll out a piece of the white fondant and line the top of the cake with it.
Knead the FunCakes Sugar Paste Multipack Blue colours and roll them out very thin. Make zebra stripes using the cutting wheel. Stick the stripes to the side of the cake with some edible glue.
Put the remaining Enchanted Cream® in a decorating bag with tip #1M and swirl small tufts on top of the cake. Finally, sprinkle some shark nonpareils on top.
Just a little while before you can enjoy your cakes. Don't forget to share your creation:
#funcakesbyme