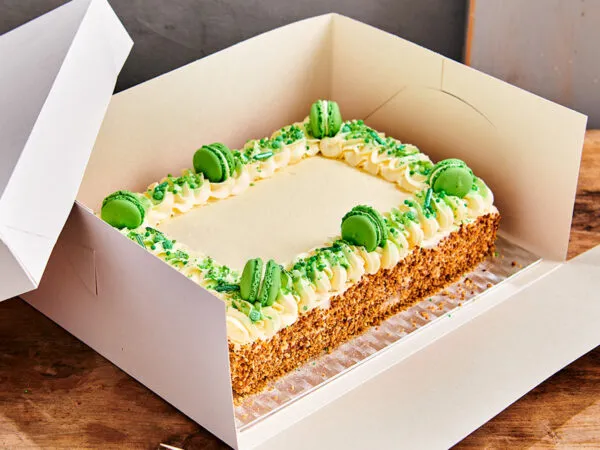 Whipped cream cake
A classic whipped cream cake. Who doesn't love it? Making your own is also super easy and especially with this recipe!
What you need to make your whipped cream cake:
Ingredients
400 g FunCakes Mix for Sponge Cake Deluxe
FunCakes Whipped Cream Stiffener – Sweetened
FunCakes Sprinkle Medley Green
FunCakes Hazelnut Crunch
750 ml whipped cream
40 ml water
6 eggs (approx. 300 g)
Macarons for decoration
Can of tangerine wedges
Necessities
FunCakes Decorating Bags
FunCakes Bake Release Spray
Wilton Cooling Grid
Wilton Comfort Grip Spatula with Angle 32.5 cm
Wilton Tip #1M Open Star
Wilton Parchment Paper
Wilton Cake leveler
PME Deep Rectangular Baking Pan 27.5 x 37.5 x 7.5cm
Preheat the oven to 180°C (convection oven 160°C).
Prepare 400 g FunCakes Mix for Biscuit Deluxe according to the instructions on the package. Grease the baking pan with bake release spray and place a suitable sheet of parchment paper on the bottom of the pan. Pour the batter into the mold and bake the sponge cake for about 35-40 minutes. Immediately after baking, turn the biscuit onto a cooling grid and remove the parchment paper.
Beat the whipped cream stiff with some sweetened FunCakes Whipped Cream Stiffener. Cut the biscuit in half with the cake leveler and fill with two layers of whipped cream with mandarin wedges on top. Cover the entire outside of the cake with whipped cream and place the rest in a decorating bag with tip #1M.
Push the FunCakes Hazelnut Crispy with your hand along the sides of the cake and pipe an edge with whipped cream on top of the cake. Sprinkle FunCakes Sprinkle Medley Green over it and decorate with some macarons if you like.
Just a little while before you can enjoy your cakes. Don't forget to share your creation:
#funcakesbyme