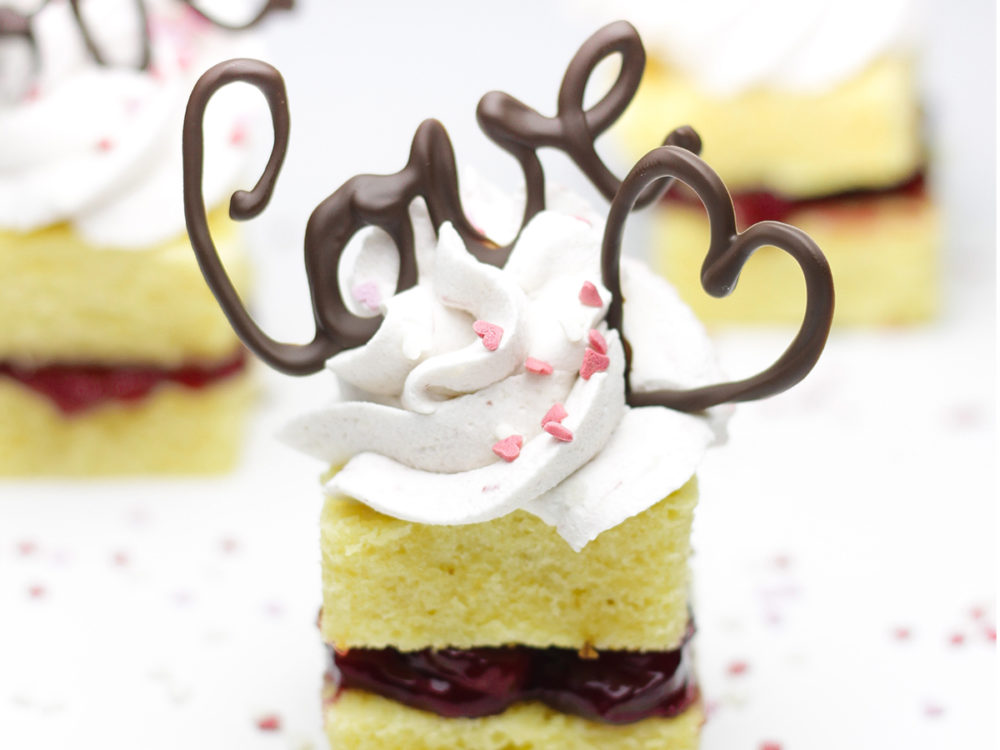 Valentine's Day cakes
We often say that love goes through the stomach and especially for those who believe that we've created this Valentine cakes recipe with cherries. The recipe combines a delicious cake with cherries, the best way to someone's heart.
1 hour and 15 min. cooking
1 hour and 30 min. waiting
What you need to make your valentine's day cakes:
Ingredients
500 g FunCakes Mix for Cupcakes
1 tbsp FunCakes Flavour Paste -Cherry-
250 ml whipping cream
5 eggs (approx. 250 g)
250 g unsalted butter
Jam or pie filling
Necessities
FunCakes Decorating Bags
FunCakes Chocolate Melts Dark
FunCakes Mini Hearts -Pink/White/Red-
Wilton Recipe Right® Loaf Pan
Wilton Parchment Paper
Preheat the oven to 160°C (convection oven 140°C).
Prepare 500 grams of FunCakes Mix for Cupcakes as indicated on the package. Grease the loaf pan using a baking spray and fill this pan with the batter. Bake the cake in the middle of the preheated oven in approx. 70 – 75 minutes. After baking, let the cake cool down on a cooling grid.
Cut the cake in slices of approx. 1 cm. Cut these slices into equal squares (approx. 4 x 4 cm). Put two slices of the cake on top of each other and apply a layer of jam in between.
Beat 250 ml of whipping cream and add one tablespoon of cherry flavour paste. Fill a decorating bag with the whipped cream and pipe swirls on the cakes.
Put the desired quantity of melts into a plastic or glass bowl. Place this bowl in the microwave and melt the melts at max. 500 W in a bowl. Stir well every 15 – 20 seconds. Stop heating when the melts are almost completely melted (small bits of melts still visible). Keep stirring until the melts are smooth and completely melted. Fold a cone of baking paper and fill it with the melted chocolate. Write and create figures with the melted chocolate on the baking paper, such as; Love, hearts and arrows. Place the chocolate in the fridge and let it harden.
Place the chocolate creations in the cream and decorate it with the mini hearts.
Just a little while before you can enjoy your cake. Don't forget to share your creation:
#funcakesbyme