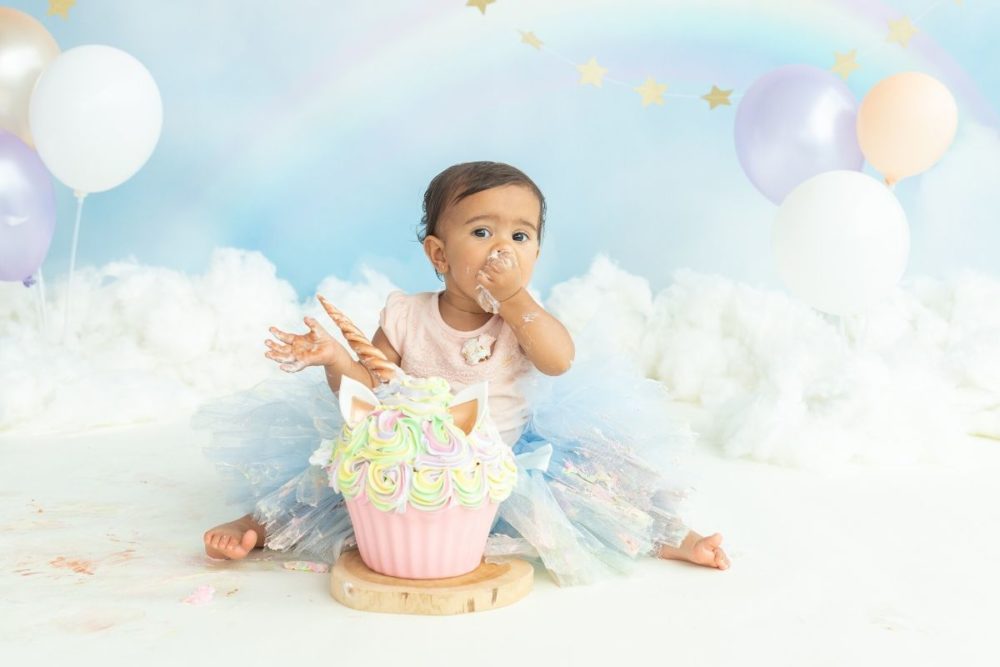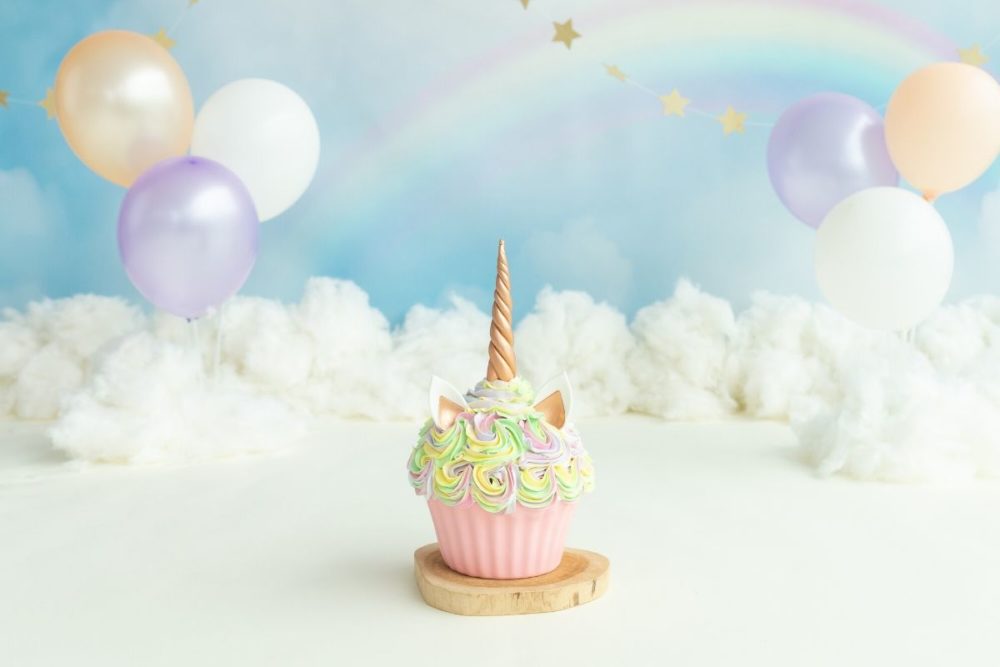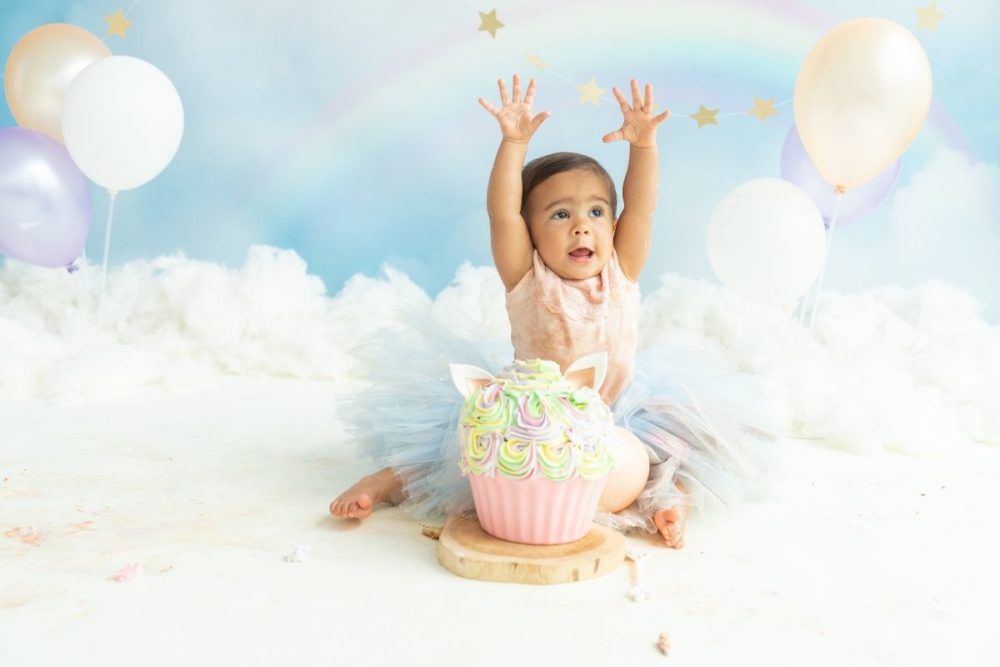 Unicorn cake smash
Can you handle the cuteness of a cake smash? What a party for the kid! Pretty little faces full of cake and cream and a happy baby! Bake your own cake smash and give your baby a fantastic first birthday!
What you need to make unicorn cake smash:
Ingredients
750 g FunCakes Mix for Cupcakes
225 g FunCakes Mix for Enchanted Cream
250 g FunCakes Rolfondant – Bright White
500 g FunCakes Rolfondant - Baby Pink
FunCakes Edible FunColours Gel - Baby Blue
FunCakes Edible FunColours Gel - Yellow
FunCakes Edible FunColours Gel - Purple
FunCakes Edible FunColours Gel - Bright Green
FunCakes Edible FunColours Sparkle Dust – Golden Ginger
7,5 eggs (aprox. 375 g)
375 g unsalted butter
150 ml water
150 ml milk
Necessities
FunCakes piping gel
FunCakes decorating bags
FunCakes Bake Release Spray
Wilton Dimensions® Large Cupcake Pan
Wilton tip #1M
Wilton bamboo dowels
Wilton -Wide Glide- rolling pin
Wilton cooling grid
PME modelling tools - cutting wheels
Rejuvenator Spirit
For the horn, knead the white fondant smoothly, keep a small part aside for the ears and roll the rest into a long thin string, the ends of which are slightly thinner than the inner part. Fold this in half and roll it around the wooden dowel. Let it dry upright (put it in a dummy if necessary). Roll out the small piece of white fondant, make two ears with the cutting wheel and let it dry slightly bent.
Tip; Ideally, make the horn and ears a day in advance.
Preheat the oven to 180 ° C (convection oven 160 ° C).
Prepare 750 grams of FunCakes Mix for Cupcakes as indicated on the package. Grease the baking tins and divide the batter between the two parts of the baking pan. Bake the cake in 55-65 minutes in the middel of the preheated oven. Let the cake cool by using a cooling grid.
Coat the bottom part of the cake with piping gel. Knead the pink fondant smoothly, roll it out and cover the cup with it.
Prepare 225 grams of FunCakes Mix for Enchanted Cream® as indicated on the package and divide the batter into 4 portions. Give each portion a different colour pastel.
Place a strip of plastic foil on the counter and fold the colored Enchanted Cream® onto the foil in stripes side by side, this can be done with a spoon or spatula. Now roll up the plastic wrap with Enchanted Cream® and tie a knot in the ends of the plastic wrap. Place nozzle # 1M in a decorating bag, cut off the end of the Enchanted Cream® roll and place it whole with the open side down in the decorating bag. If you spray tufts now, all four colors will return in the tuft.
Put the two parts of the cake together with some cream and pipe the entire top full of beautiful rosettes. Mix the Sparkle Dust and rejuvenator spirit to a paint and paint the horn and ears gold. Place it carefully on the cake.
Just a little while before you can enjoy your cakes. Don't forget to share your creation:
#funcakesbyme