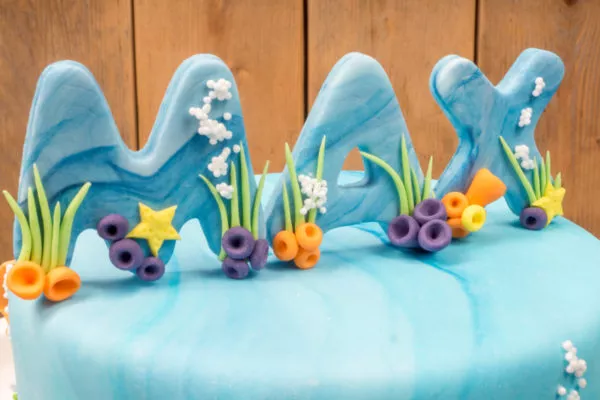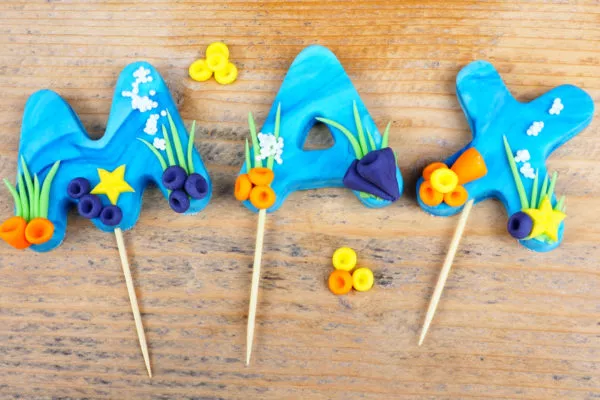 Underwater world lettertopper
What you need to make your underwater world lettertopper:
Ingredients
150 g FunCakes Modelling Paste – White
FunCakes Edible FunColours Gel – Royal Blue
FunCakes Fondant Yellow
FunCakes Fondant Orange
FunCakes Fondant Green
FunCakes Fondant Purple
FunCakes Nonpareils – White
FunCakes Edible Glue
Necessities
Wilton A-B-C and 1-2-3 Cutter
Wilton Perfect Height rolling pin
PME Cone Tool
PME Star mini plunger cutter
Brush
Cocktail sticks
Color the FunCakes modeling paste blue with the FunColours gel but do not knead it completely to an even color blue, but keep it marbled. Roll this out to a thickness of 6 mm and cut out the desired letters (if you want to make a longer name, of course adjust your amount of modeling to that). Insert a cocktail stick in the bottom of the letters and let them dry for at least a day.
Roll out the yellow fondant thinly and cut out a few stars. Give the stars a structure with a cocktail stick. Roll the green fondant very thin strings, these are the aquatic plants. Roll the yellow, orange and purple fondant small balls that you press with the cone tool. You can make cones from orange and purple that you also press with the cone tool. This is your coral.
Stick the water plants, coral and starfish on the letters. Put a drop of edible glue on your work surface and roll white musket seed through it so that it sticks together. Place tufts of the white sticky musket on the letters and allow to dry.
Just a little while before you can enjoy your figures. Don't forget to share your creation:
#funcakesbyme