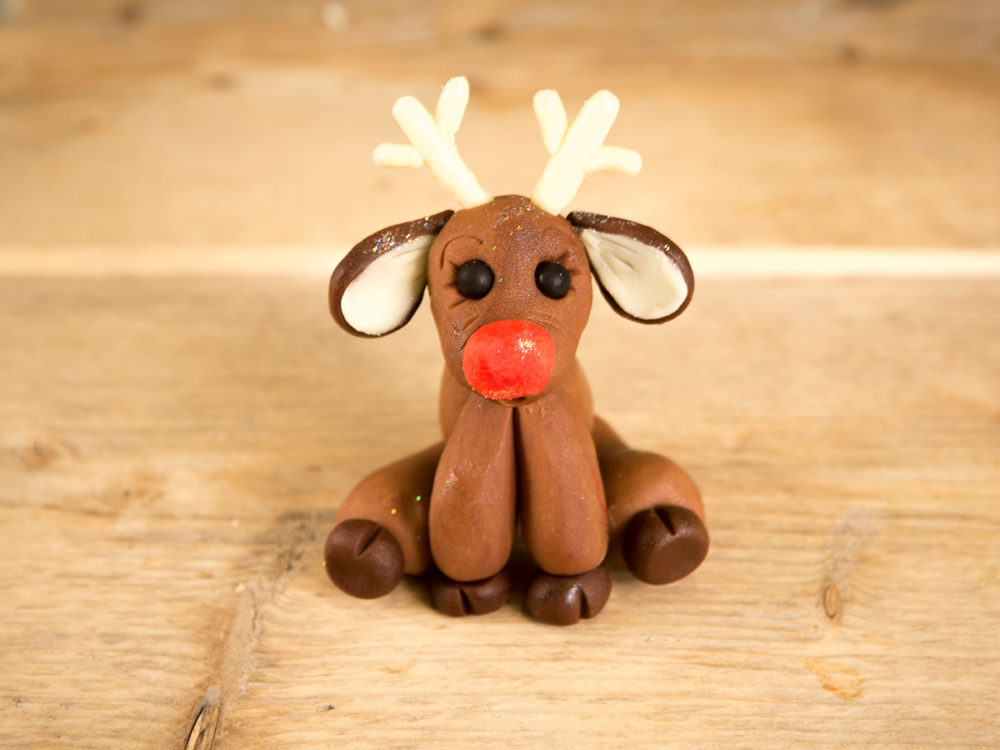 Chocolate Rudolph reindeer
Rudolph the red-nosed reindeer is our best friend during the holiday season. You can create this chocolate Rudolph for on your cakes, brownies, desserts or whatever you want. It's not as hard as it looks!
What you need to make your chocolate rudolph reindeer:
Ingredients
125 g FunCakes Modelling Chocolate Milk
20 g FunCakes Modelling Chocolate Dark
20 g FunCakes Modelling Chocolate White
FunCakes Sugarpearls -Black-
FunCakes Edible Glue
FunCakes FunColours Gel Red
Necessities
PME Modelling Tool
Spaghetti
Brush
Knife
Knead 60 grams of milk modelling chocolate. Make two balls, make one a bit larger than the other. Roll the large ball into a cone and stick a spaghetti in the cone. Cut of the remaining spaghetti but keep some to add the head. Turn the small ball into a cone with a flat front. Add the head to the body with some glue.
Roll 65 grams of milk chocolate into a sausage and divide this into 4 parts. Make 2 parts a bit larger than the other ones and roll this into small sausages. These are the front and back legs.
Knead 15 grams of dark chocolate and roll this into 4 small balls that you make a bit flat. With a knife you can make the hoofs. Glue  them at the bottom of the legs. Glue the large legs against the body and the smaller ones to the front. Roll 5 grams of dark chocolate into two balls and turn this into cones and flatten them.
Knead 20 grams of white chocolate and roll this around a bit of spaghetti. Make another 4 small sauces and glue them to each other to make the antlers. Create two balls and turn this into cones and flatten them. Repeat this with the white chocolate but make them a bit smaller and glue them on the dark chocolate to create the ears.
Colour the rest of the white chocolate with the red colour gel to make the nose and glue this on the head.
Carefully stick the antlers in the head. Use the back of a brush to make two holes and add the sugarpearls. Take a small half bow tool and make the eyebrows. And use a small knife to make extra details at the eyes, ears and nose.
Just a little while before you can enjoy your figures. Don't forget to share your creation:
#funcakesbyme