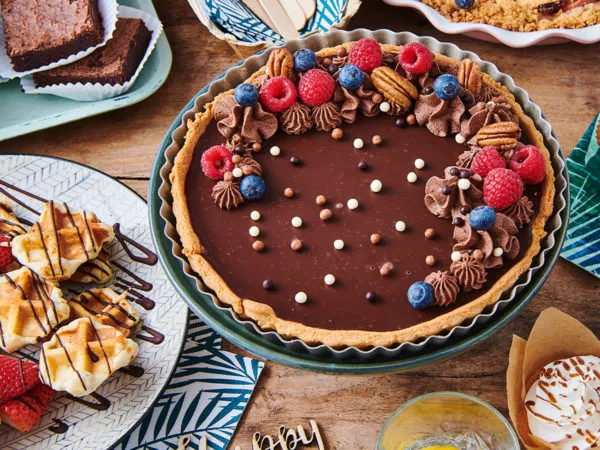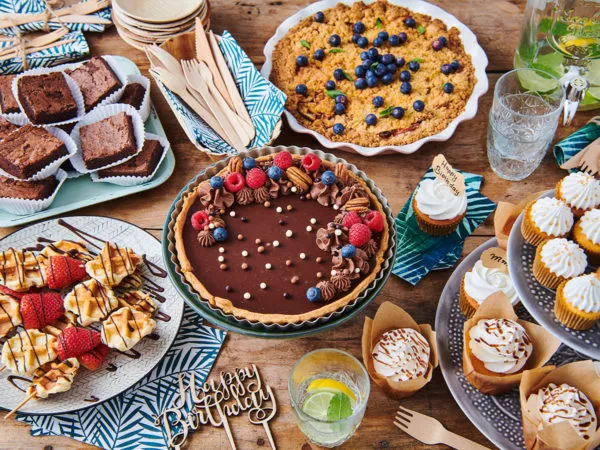 Tartelette with ganache
This tartelette with ganache is so yummy and combines perfectly with the berries and pecans! When do you start baking?
1 hour and 30 min. preparing
What you need to make your tartelette with ganache:
Ingredients
600 g FunCakes Chocolate Melts Dark
100 g FunCakes Icing Sugar
40 g FunCakes Almond Flour Extra Fine
FunCakes Chocolate Crispy Pearls –Mix
600 ml whipped cream
220 g flour
150 g unsalted butter
30 g beaten egg
Raspberries
Blueberries
Pecans
Salt
Necessities
FunCakes Magic Roll-Out Powder
FunCakes Bake Release Spray
FunCakes Decorating Bags
Wilton Decorating Tip #1M
Wilton Decorating Tip #032
Wilton -Wide Glide- Rolling Pin
Patisse Quiche pan -Loose bottom- 24cm
Heat 600 ml whipped cream in the microwave to 80°C. Put this in a mixing bowl and add 600 grams of chocolate melts. Mix this on low speed to a smooth ganache and let it cool on the counter.
Prepare the tartelette dough from 220 g flour, 150 g butter, 100 g FunCakes icing sugar, 40 g FunCakes almond flour, a pinch of salt and 30 g egg. Wrap it in plastic wrap and let it set in the fridge for an hour.
Preheat the oven to 180°C (convection oven 160°C).
Spray the baking pan with FunCakes Bake Release Spray. Knead the dough from the refrigerator well and roll it out on a floured work surface to a thickness of about 3-4 mm. Place the piece in the mold and lightly press the edges.
Cut off the excess dough with a sharp knife and prick the bottom with a fork. Bake the tartelette base in a preheated oven for about 15-20 minutes until lightly browned and let it cool down in the mold.
When your tartelette has cooled, pour in almost all the liquid ganache and put the tartelette in the fridge to let it stiffen.
Mix the leftover ganache with the mixer to a thick paste. Divide this over two piping bags with decorating tip # 32 and # 1M. Spray tufts on the tartelette with the two different nozzles and decorate with the fruit and the pecans. Finally, sprinkle some crispy pearls on top.
Just a little while before you can enjoy your cakes. Don't forget to share your creation:
#funcakesbyme