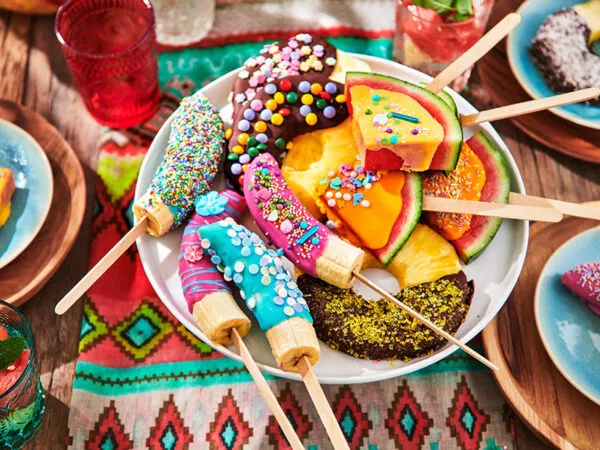 Summer fruit with Deco Melts
Get ready to elevate your fruit game with our delectable Deco Melts dipped creations! These treats combine the natural sweetness of fruit with the irresistible Deco Melts. Each bite is enhanced with a delightful sprinkle of colorful joy, turning every treat into a celebration of flavor and texture.
1 hour and 20 min. preparing
What you need to make your summer fruit with deco melts:
Ingredients
350 g FunCakes Chocolate Melts Dark
250 g FunCakes Deco Melts Mango Flavour
250 g FunCakes Deco Melts Raspberry Flavour
250 g FunCakes Deco Melts Orange Flavour
250 g FunCakes Deco Melts Light Blue
FunCakes Flower Mix
FunCakes Nonpareils Disco Mix
FunCakes Confetti Spring
FunCakes Sprinkle Medley Happy
FunCakes Candy Choco Confetti
FunCakes Sugarstrands Pastel
Coconut rasp
Banana's
Pineapple
Watermelon
Necessities
Wilton Parchment Paper
PME Wooden Lolly Sticks
Scrapcooking Digital Food Thermometer
Clean the pineapple and watermelon, cut into slices and pat dry well. Leave them under kitchen paper until use so that the fruit is really dry before dipping. If you don't, the Deco Melts and chocolate won't adhere well.
Melt 280 g FunCakes Chocolate Melts Pure in the microwave as indicated on the packaging. When it is completely melted add the remaining 70 g and let this dissolve in the warm chocolate. With occasional stirring, bring the temperature to 31 degrees on the thermometer. This is called tempering. If you don't do this, your chocolate will remain dull and sticky and will not harden and shine nicely. So the temperature listens very closely.
Put the bananas and watermelon on sticks. Dip the fruit you want covered in chocolate into the liquid chocolate and sprinkle with sprinkles immediately. Place on a plate lined with parchment paper and leave to set in the fridge.
Melt the FunCakes Deco Melts as indicated on the packet and dip the fruit in it. Sprinkle immediately with sprinkles and let it set on baking paper in the fridge.
Just a little while before you can enjoy your treats. Don't forget to share your creation:
#funcakesbyme