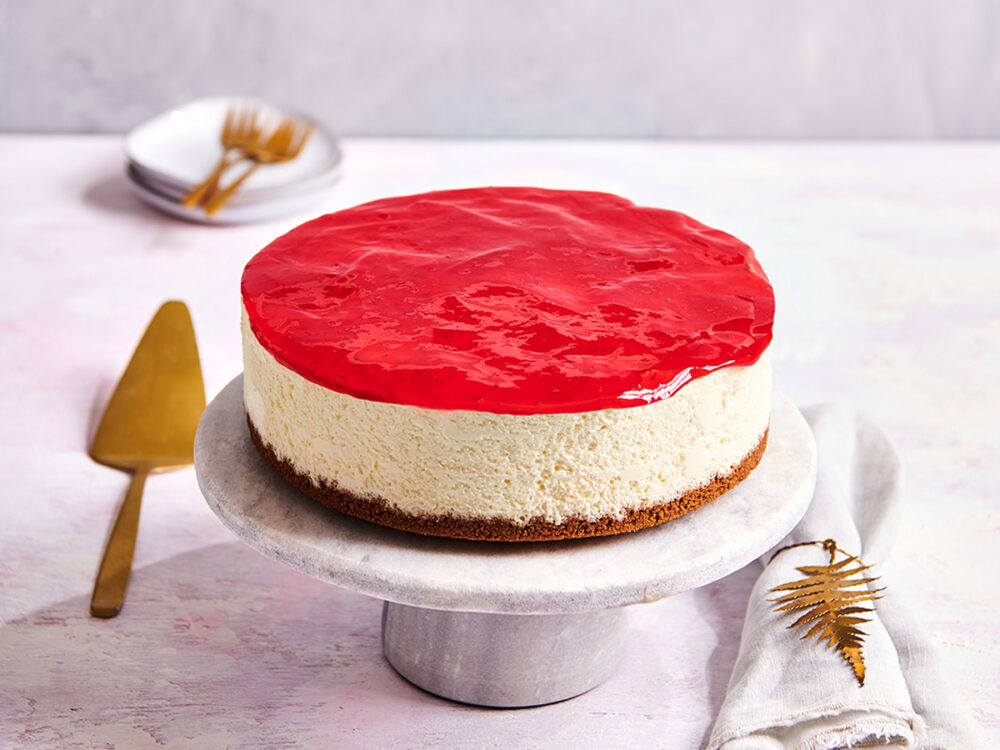 Strawberry bavarois cake
A fruity touch as icing on the cake! A creamy bavarois filling with the FunCakes Glaze Topping Strawberry as a finishing touch.
What you need to make your strawberry bavarois cake:
Ingredients
500 g FunCakes Mix for Cookies
100 g FunCakes Mix for Bavarois Strawberry
FunCakes Specoloos Spices
FunCakes Glaze Topping Strawberry
500 ml whipped cream
275 g unsalted butter
120 ml water
1 egg (approx. 50 g)
Necessities
FunCakes Acetate Roll 8cm
Wilton Wide Glide Rolling Pin 50cm
Wilton Parchment Paper
Patisse Profi Springform Ø22cm
Prepare 500 g FunCakes Mix for Cookies with the speculoos spices according to the instructions on the package. Wrap it in cling film and let it set in the fridge for an hour.
Preheat the oven to 180°C (Convection oven 160°C).
Roll out the dough on a floured work surface to a thickness of 2 to 3 mm and place on a baking tray lined with baking paper. Bake the cookie in about 12-17 and let it cool. Line the bottom of the springform pan with a sheet of parchment paper and line the inner edge with acetate foil.
Break the cookies into pieces and crumble in a food chopper. Add melted butter to this and place in the springform pan, pressing down well. Put this in the fridge for half an hour.
Whip the whipped cream until smooth and add the prepared bavarois mix, fold until everything is well mixed and pour into the springform pan. Let it set in the fridge for at least 2 hours, preferably longer.
Pour some FunCakes Glaze Topping Strawberry on the cake and smooth with a spatula.
Just a little while before you can enjoy your cakes. Don't forget to share your creation:
#funcakesbyme