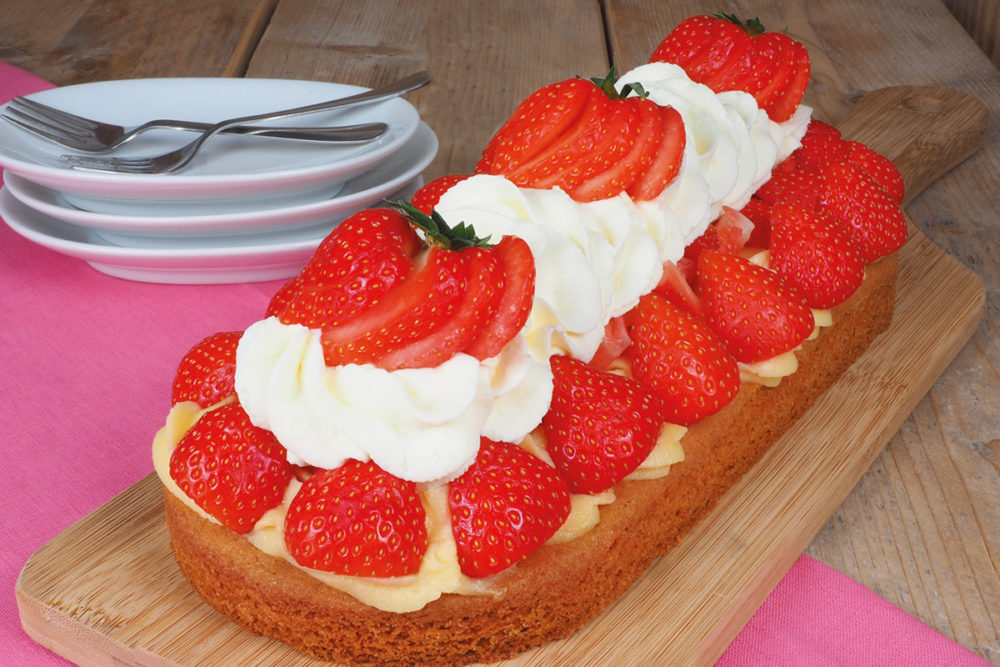 Strawberry almond cake
This delicious loaf with strawberries is pleasing to the eye. Want to bet that this delicious loaf will be finished in no time?
What you need to make your strawberry almond cake:
Ingredients
500 g FunCakes Special Edition Mix for Sweet Cookie & Crust
150 g FunCakes Mix for Crème Patisserie
2 tbsp FunCakes Icing Sugar
375 ml water
250 ml whipped cream
155 g unsalted butter
150 g almond paste
2 eggs (approx 100 g)
9 g Cream Stiffener
Fresh strawberries
Necessities
FunCakes Magic Roll-Out Powder
FunCakes Bake Release spray
FunCakes decorating bags
FunCakes baking paper
Wilton Wide Glide rolling pin
Wilton cooling grid
Wilton decorating tip #1M
Patisse baking frame
Cling film
Preheat the oven to 180°C (convection oven 160°C).
Prepare 500 gram FunCakes Mix for Sweet Cookie & Crust as indicated on the package. Let it stiffen in the refrigerator for approx. 1 hour. Knead the dough firmly and roll it out on a surface covered with Magic Roll out Powder till 1,5 cm thickness. Cut out the cake with the baking ring. Cover the baking tray with baking paper and place the dough with the baking ring in the oven.
Tip! You can freeze possible extra dough for later use.
Put the almond paste together with the egg in a bowl and beat it together. Place the mix in a piping bag with decorating tip #1M and pipe it into the center of the whole loaf. Keep 1 cm from the edge. Bake it golden brown in 20-25 minutes. After baking, remove the baking tin and let the cake cool down on the cooling grid.
Prepare 150 gram FunCakes Mix for Crème Patisserie as indicated on the package. Fill a decorating bag with tip #1M and pipe, again with a zigzag movement, the cream on top of the cake. Slice a few strawberries in half and put these along the edge of the crème patisserie. Keep two or three good looking strawberries aside and slice the rest in little pieces. Put the pieces of strawberries in the middle of the cake. Beat the whipped cream together with the icing sugar and Klop-Fix until it's stiff. Fill a decorating bag with decorating tip #1M and the mixture and make swirls on top of the strawberries.
Slice the strawberries you've put aside a few times halfway and carefully pull them a bit apart. Put this on top of the whipped cream.
Just a little while before you can enjoy your cake. Don't forget to share your creation:
#funcakesbyme