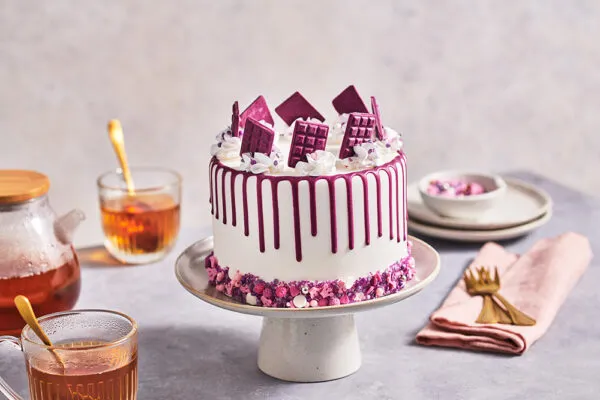 Royal purple drip cake with sprinkles and mini choco bars
Make a delicious and colourful drip cake with the mixes of FunCakes. With this purple Choco Drip you can easily create a beautiful drip along the cake. Choose a sprinkle in the same colour and you have a very nice cake for a birthday for example!
1 hour and 45 min. waiting
What you need to make your royal purple drip cake with sprinkles and mini choco bars:
Ingredients
500 g FunCakes Sugar Paste White
150 g FunCakes Mix for Sponge Cake Deluxe
125 g FunCakes Mix for Buttercream
75 g FunCakes Mix for Enchanted Cream®
FunCakes Flavour Paste White Choco
FunCakes Clear Piping Gel
FunCakes Choco Drip Royal Purple
FunCakes sprinkles in matching colour
50 + 15 + 125 ml water
150 g unsalted butter
3 eggs (approx. 150 g)
50 ml milk
Necessities
FunCakes Bake Release Spray
FunCakes Decorating Bags 41cm
Wilton Decorator Preferred® Deep Round Pan Ø 15x7,5cm
Wilton Recipe Right Non-Stick Cooling Grid - 40x25cm
Wilton Decorating Tip #1M Open Star
Wilton Cake Leveler 25cm
Wilton Rolling Pin 50 cm
Silikomart Chocolate Mould Tablette
PME Decorating Brush Set/5
Preheat the oven to 175°C (160°C convection oven) and grease the baking pan with FunCakes Bake Release Spray.
Prepare the 150 g FunCakes Mix for Sponge Cake Deluxe with 15 ml water and 3 eggs as indicated on the package. Spoon the batter into the baking pan and bake the sponge cake for about 30-35 minutes. After baking, immediately place on a cooling grid to cool.
Cut the biscuit twice with the cake leveler and fill and spread all around with the flavoured buttercream. Let this set in the fridge for approx. 30 minutes.
Knead the sugar paste well and roll it out to a thickness of approx. 2-3 mm. Cover the cake with the sugar paste.
With the largest brush from the set, spread a layer of piping gel along the bottom edge of the cake and press sprinkles against it.
Heat the bottle of FunCakes Choco Drip according to the instructions on the package and let the choco drip slide down along the edge of the cake. Put the cake in the refrigerator for a while so the drip will harden and become shiny.
Fill the mini tablet mould with the choco drip, leave it to set in the fridge for 10-15 minutes and then carefully remove it from the mould.
Prepare the 75 g FunCakes Mix for Enchanted Cream® with 50 ml water and 50 ml milk and place in a decorating bag with #1M. Pipe tufts on top of the cake and put sprinkles on top. Gently press a mini tablet into each topping.
Just a little while before you can enjoy your cakes. Don't forget to share your creation:
#funcakesbyme