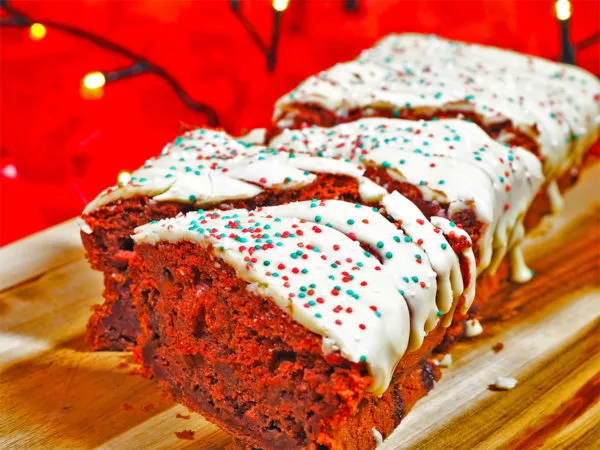 Red velvet banana bread
Banana bread comes in many different shapes and sizes, but are you already familiar with red velvet banana bread? This recipe makes your banana bread just a little bit different and just a little tastier.
What you need to make your red velvet banana bread:
Ingredients
500 g FunCakes Mix for Red Velvet Cake
100 g FunCakes Chocolate Melts White
FunCakes Nonpareils Christmas
3 eggs (approx. 150 g)
100 ml vegetable oil
50 ml water
150 g banana
Necessities
FunCakes Bake Release Spray
Wilton Recipe Right® Loaf Pan 21,25 x 11,25 cm
Wilton Cooling Grid
Preheat the oven to 180°C (convection oven 160°C).
Puree 150 grams of bananas using a fork or a blender. Mix 500 grams of FunCakes Mix for Red Velvet Cake, 3 eggs, 100 ml of oil, 50 ml of water and the mashed bananas at low speed to a fluffy batter. Grease the baking pan, using a baking spray and divide the batter into the loaf pan. Bake the cake in the middle of the preheated oven in approx. 45 – 50 minutes. After baking, place on a cooling grid and let it cool down completely.
Pour 100 grams of melts in a bowl suitable for the microwave. Melt at maximum power (± 800W) in the microwave. To evenly spread the temperature, remove the chocolate every 15 – 20 seconds and stir well. Stop heating when the chocolate is almost completely melted (small bits of chocolate can still be seen). Keep stirring until the chocolate is dissolved and pour it over the cake. Finish the cake by sprinkling the nonpareils on top of the melts.
Just a little while before you can enjoy your cake. Don't forget to share your creation:
#funcakesbyme