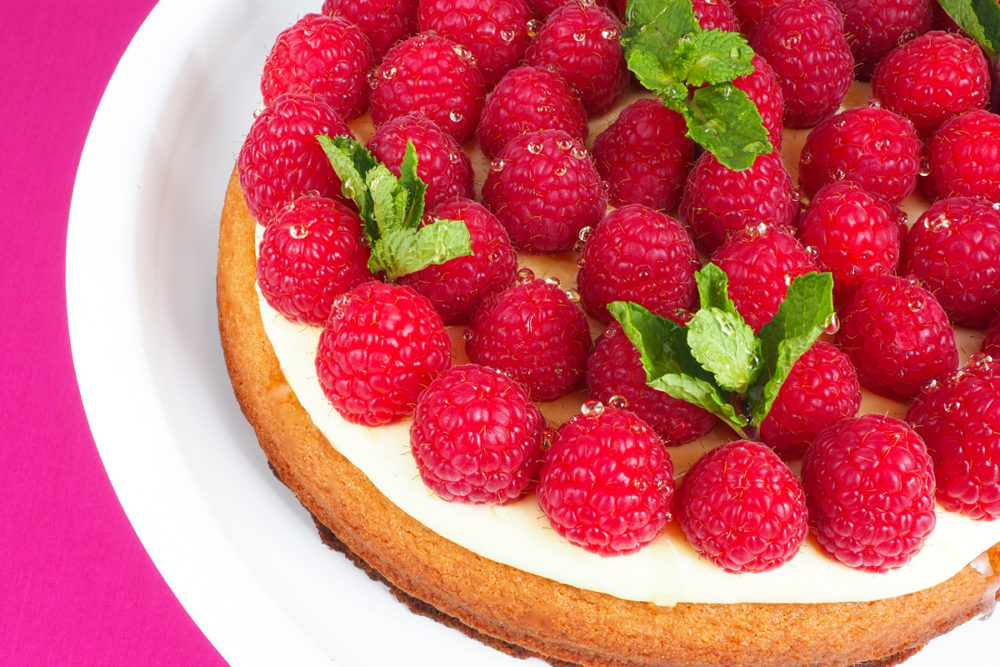 Raspberry cake with crème patisserie
A delicious cookie & crust with raspberry and crème patisserie. A fruity cookie & crust is a party to bake and eat. Get started quickly!
What you need to make your raspberry cake with crème patisserie:
Ingredients
500 gram FunCakes Special Edition Mix for Sweet Cookie & Crust
250 gram FunCakes Almond paste
100 gram FunCakes Mix for Crème Patisserie
250 ml of water
250 ml of whipped cream
155 gram unstalted butter
8 g Klop-fix
2 boxes raspberries
1 egg (aproxx. 50 g)
Mint leafs
Liquid flower honey
Necessities
FunCakes Magic Roll-Out Powder
FunCakes decorating bags
Wilton Recipe Right ® Springform pan 25 cm
Wilton decorating tip #1A
Wilton - Wide Glide - Rolling Pin
Wilton Parchment Paper
Preheat the oven to 180 °C (convection oven 160 °C).
Knead the dough after rising in the fridge and roll it out until a 1,5 cm thickness on a with Magic Roll-Out Powder covered work surface. Cut out the right shape with the edge of the springform and place it with the edge of the springform on a with baking paper covered baking plate. Fill a decorating bag with the diluted almond paste and cover the dough bottom with it. Leave 1 cm along the edge free of almond paste. Bake the bottom for 20-25 minutes. After baking, remove the ring and let the bottom cool down completely.
Beat the whipped cream with the icing sugar and a bag of Klop-fix. Add the whipped cream to the crème patisserie and stir is until everything is absorbed into one even cream. This is the Swiss cream. Fill a decorating bag with tip #1A and cover the bottom with a generous spiral of Swiss cream starting in the middle.
Cover the layer of Swiss cream completely with raspberries and mint leafs here and there. Then drizzle the honey with a zigzag movement over the raspberries. You'll see that the honey will be absorbed by the raspberries leaving behind several drops.
Just a little while before you can enjoy your cakes. Don't forget to share your creation:
#funcakesbyme