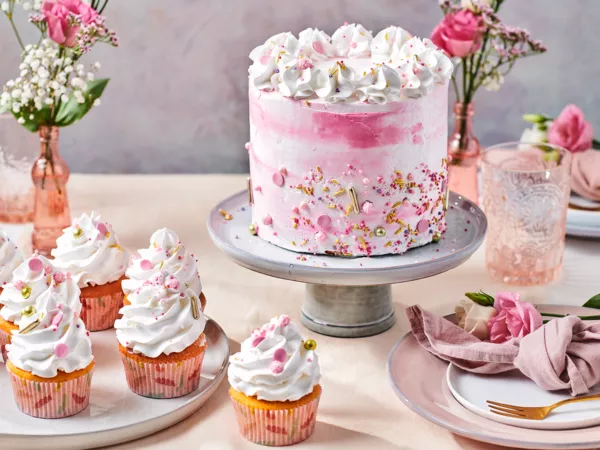 Pink watercolour cake
A delicious cake filled and covered with Enchanted Cream! Completely in pink. Finish the cake with different sprinkles and swirls on top!
1 hour and 30 min. preparing
What you need to make your pink watercolour cake:
Ingredients
150 g FunCakes Mix for Sponge Cake Deluxe
150 g FunCakes Mix for Enchanted Cream®
FunColours Gel Pink
FunCakes Sprinkle Medley Glamour Pink
115 ml water
100 ml milk
3 eggs (approx. 150 g)
Jam
Necessities
FunCakes decorating bags
FunCakes Bake Release Spray
Wilton Decorator Preferred Deep Baking Pan Round Ø 15x7,5cm
Wilton Tip #1M Open Star
Wilton Decorator Preferred Spatula Angled 22,5 cm
Wilton Basic Turn Table
Wilton Cake leveler 25cm
Wilton Cooling Grid
PME Plain Edge Side Scraper
Preheat the oven to 180 ° C (convection oven 160 ° C).
Prepare 150 g FunCakes Mix for Sponge Cake Deluxe according to the instructions on the package. Grease the baking pan with baking spray and add the batter. Bake the sponge cake for about 30-35 minutes and after baking, put it on a cooling grid to let it cool.
Cut the sponge cake with the cake saw 2 to 3 times and fill with the jam of your choice and Enchanted Cream®. Cover the cake with a very thin layer of Enchanted Cream® and let it stiffen in the refrigerator for half an hour. Divide the rest of the Enchanted Cream® into 3 portions, of which you color two portions in two shades of pink with the gel.
Now apply white and two shades of pink Enchanted Cream® to the cake with a spatula and, using the turn table and side scraper, pull the cream tightly around the cake so that the colors flow into each other.
Put some white (or if you want colored) Enchanted Cream® in a piping bag with 1M and pipe small tufts on the edge on top of the cake. Decorate the side and the tufts with the glamor medley.
Just a little while before you can enjoy your cakes. Don't forget to share your creation:
#funcakesbyme