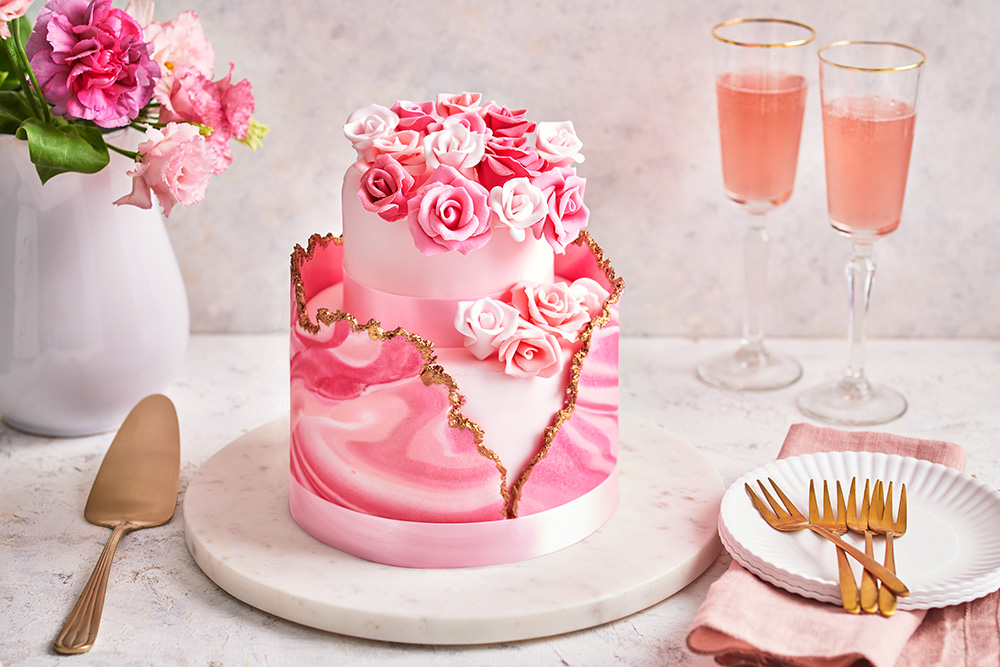 Pink cake with roses and gold edge
This pink cake with roses and a golden edge is real showstopper! The elegant cake has two layers with roses and a beautiful marble effect. So beautiful, almost a shame to eat it!
What you need to make your pink cake with roses and gold edge:
Ingredients
950 g FunCakes Sugar Paste Pastel Pink
350 g FunCakes Sugar Paste Hot Pink
350 g FunCakes Sugar Paste Pretty Pink
350 g FunCakes Sugar Paste Sweet Pink
400 g FunCakes Mix for Sponge Cake Deluxe
200 g FunCakes Mix for Buttercream
FunCakes Flavour Paste Lemon
FunCakes CMC - Tylo Powder
FunCakes Metallic Food Paint Copper
FunCakes Bake Release Spray
FunCakes Edible Glue
FunCakes Clear Piping Gel
6 eggs (approx. 300 g)
250 g unsalted butter
240 ml water
Jam of your choice
Necessities
FunCakes Cake Cards Silver/Gold - Round - 15cm pk/3
FunCakes Cake Ribbon Pink 25mmx20m
Wilton Decorator Preferred® Deep Round Pan Ø 20x7,5cm
Wilton Decorator Preferred® Deep Round Pan Ø 15x7,5cm
Wilton Parchment Paper Roll
Wilton Rolling Pin 50 cm
Wilton Recipe Right Non-Stick Cooling Grid - 40x25cm
Wilton Cake Leveler 25cm
Wilton Basic Turntable
Wilton Perfect Height Rolling Pin 22,5cm
Wilton Dowel Rods Plastic set/4
FMM 5 Petal Rose cutter 50mm
FMM 5 Petal Rose cutter 65mm
PME Flower Foam Pad
PME Modelling Tools Bone
PME Plain Edge Tall Side Scraper
Dekofee Profi Brush 1
Cocktail skewers
Ideally, you should start by making the roses, because this requires quite a bit of time.
Make 3 or 4 roses from each colour of fondant. Start with making the cones on which you will place the roses. Take a small ball of fondant and roll it between your fingers into a drop shape. Stick it on a cocktail stick and let it dry for a few hours.
Knead small pieces of fondant with some tylo powder and roll it out wafer-thin (it should almost be see-through). Cut out two identical sizes for each rose. So you make larger and smaller roses with the two cutters.
Place a cut-out shape on the foam mat and thin the edges with the bone tool. Do this very carefully and do not press too hard, because then it will tear. Now push the cocktail stick with the cone into the middle of the cut-out shape and stick 1 leaf with some edible glue around the cone so that you cannot see it any more. Now stick the other leaves alternately with some edible glue around the cone. Now you have a rosebud. If you want a bigger rose, repeat this with a second layer. Leave the roses to dry for a few hours, preferably overnight.
Preheat the oven to 180° C (convection oven 160° C).
Prepare 200 g FunCakes Mix for Buttercream and 400 g FunCakes Mix for Sponge Cake Deluxe as indicated on the packages. Grease the baking pans with baking spray, line them with a strip of baking paper and divide the sponge cake batter between the two baking pans. Bake the sponge cakes for approx. 30-35 minutes until they are cooked and then immediately place them on a cooling grid to cool.
Complete the buttercream and season with the flavour paste.
Cut both sponge cakes twice with the cake leveler and fill them with buttercream and jam of your choice. Grease the outside with buttercream as well. Leave the cakes to set in the fridge for an hour.
Cover the two cakes with the pastel pink fondant and stack them on top of each other using dowels and a cake card. Make sure the bottom cake stands on a firm flat surface, for example a drum.
Knead all colours of fondant separately and make them into a roll. Place the 4 colours against each other, twist them together and roll into a marbled roll. Repeat this a few times until you find the fondant nicely marbled. When you are satisfied, roll it out to an oblong piece that fits around your cake. Stick it with some piping gel around your cake. With your fingers, pull off the pieces of fondant so you get a bit of a jagged edge. Paint this edge with the edible paint.
The bottom of your marbled piece of fondant is often prettier than the side on which you rolled it out. So feel free to turn it over.
Finish the cakes with ribbon and finally prick the roses into the cake.
Just a little while before you can enjoy your cakes. Don't forget to share your creation:
#funcakesbyme