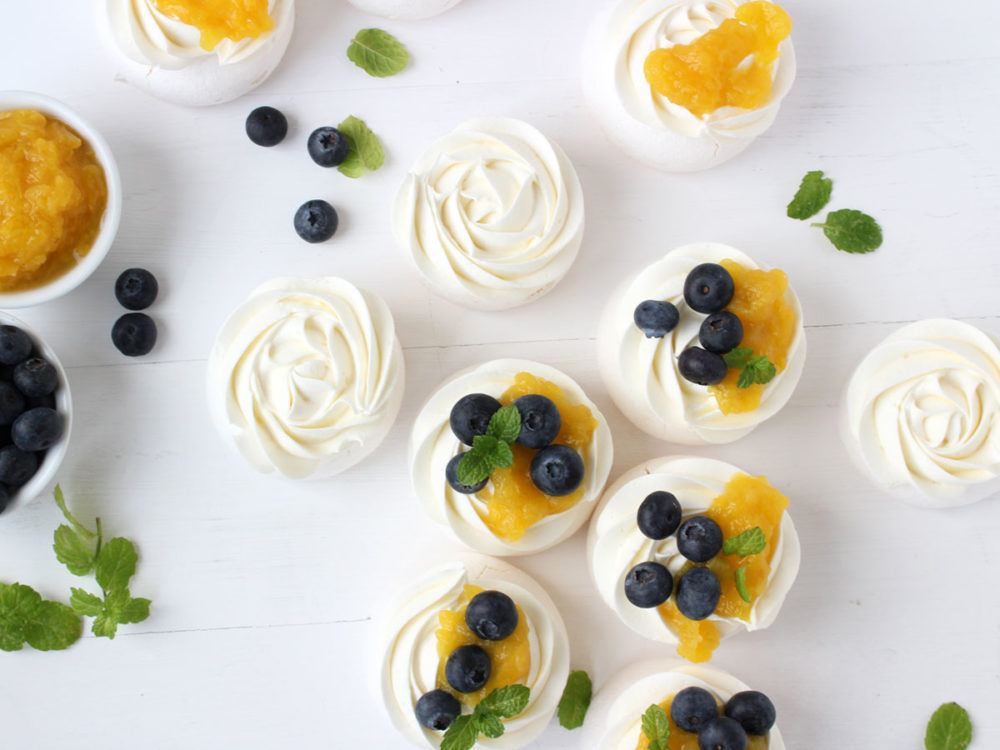 Pavlova
Pavlova is the ultimate Australian dessert. Let's make a variation of this all time favourite. These cupcakes looks stunning don't you think? Besides that they are really delicious. Happy baking!
2 hour and 30 min. cooking
What you need to make your pavlova:
Ingredients
150 g FunCakes Merinque Powder
125 g FunCakes Mix for Buttercream
FunCakes Flavour Paste -Vanille-
250 g caster sugar
250 ml water
200 g blueberries
1 mango
Mint leaves
Necessities
FunCakes Piping Bags
Wilton Decorating Tip #1M
Wilton Parchment paper
Preheat the oven to 120°C (convection oven 100°C).
Mix 14 grams of meringue powder with 125 ml of water and 125 grams of fine sugar in a bowl and stir this with the whisk. Beat the powder on high speed until you can pull peaks that don't fall back. It is very stiff and tough. Draw 20 circles of approximately 5 cm on parchment paper and cover the baking tray. Place decorating tip #M in a piping bag, fill the piping bag with the mixture and cut off the tip. Pipe 20 equal meringues (2,5 cm high). Dry the meringue in the oven in approx. 2 ½ hours and let it cool down in the oven.
Tip! Make sure your bowl and whisk are greaseproof and make this meringue one day in advance in order for it to dry well.
Prepare 125 grams of FunCakes Mix for Buttercream as indicated on the package and add vanilla flavour paste to taste. Place decorating tip #M in a piping bag and fill this with cream. Pipe rosettes on top of the meringues.
Mash the mango using a fork or a blender and apply a small layer on top of the rosettes. Finish with blueberries and mint leaves.
Just a little while before you can enjoy your treats. Don't forget to share your creation:
#funcakesbyme