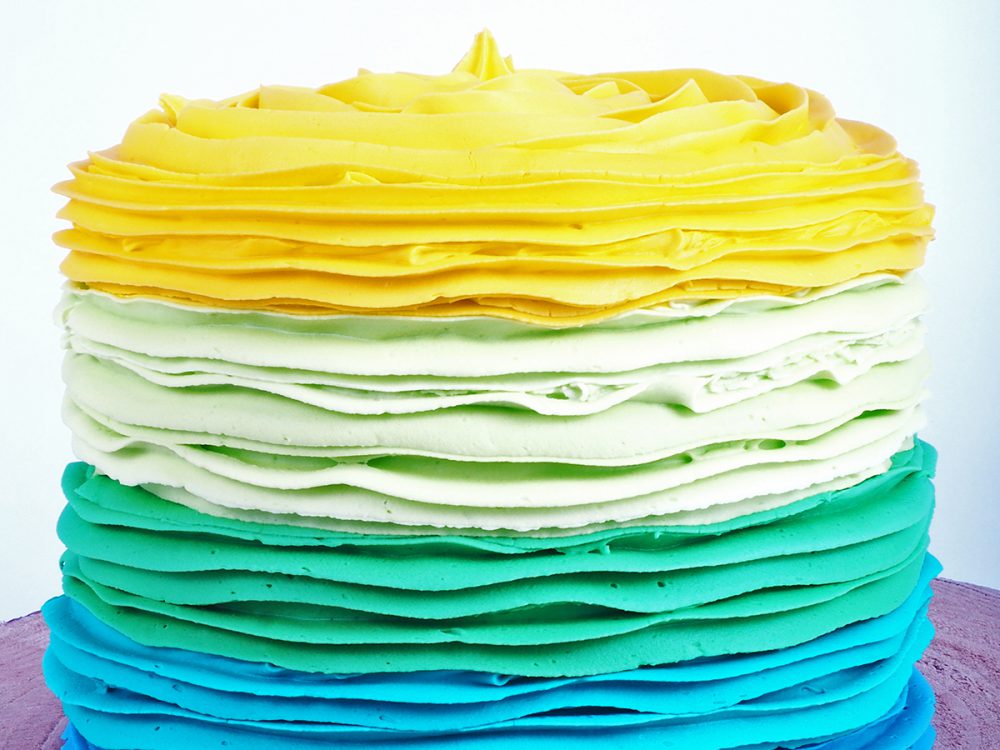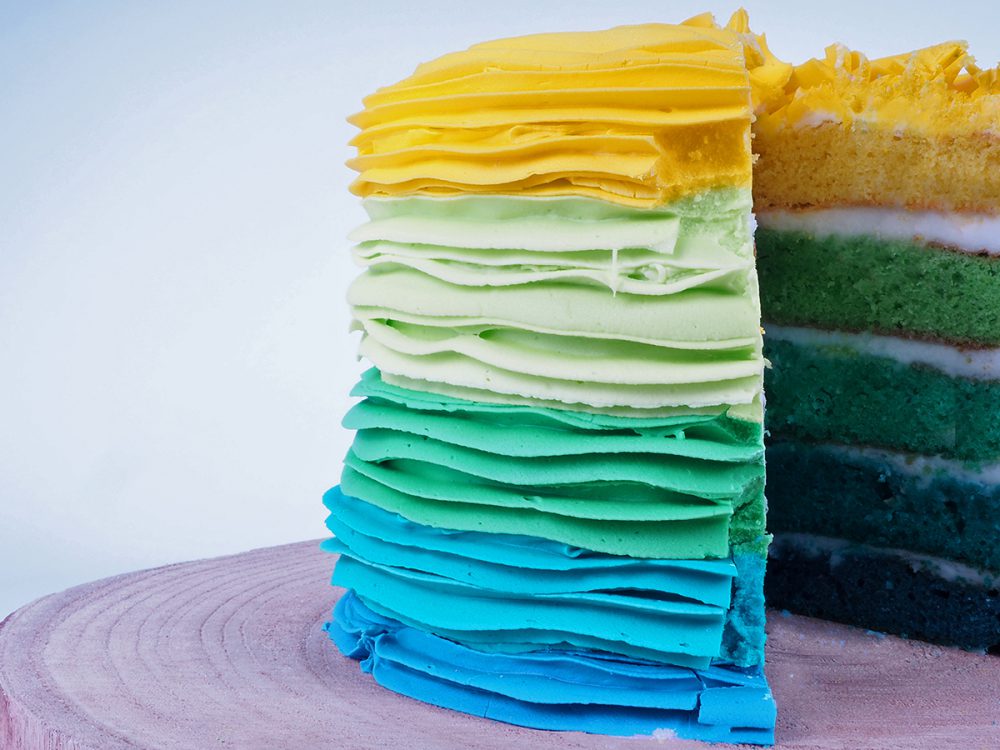 Ombre cake
The ombre cake is for everyone who loves color and the smooth color transitions make it a beautiful piece of art to look at.
What you need to make ombre cake:
Ingredients
500 g FunCakes Mix for Cupcakes
400 g FunCakes Mix for Buttercream
FunCakes Edible FunColours Gel – Bright Green
FunCakes Edible FunColours Gel – Mint Green
FunCakes Edible FunColours Gel – Yellow
FunCakes Edible FunColours Gel – Baby Blue
FunCakes Flavour Paste -Lemon-
5 eggs (approx. 250 g)
750 g unsalted butter
400 ml water
Necessities
FunCakes Disposable Decorating Bags
FunCakes Bake Release Spray
Wilton Cake Pan Easy Layers -20cm- Set/4
Wilton Decorating Tip #1M Open Star Carded
Wilton Chrome-Plated Cooling Grid
Wilton Basic Turntable
Preheat the oven to 180°C (convection oven 160°C).
Prepare 500 grams of FunCakes Mix for Cupcakes as indicated on the package. Divide the batter into 4 even portions and colour these with the gels in the different colours. Grease the bakings pans with cake release spray and fill them with the coloured batters. Bake the cakes for approx. 25 minutes and let them cool down on a cooling grid afterwards.
Prepare 400 grams of FunCakes Mix for Buttercream as indicated on the package and add lemon flavouring to taste. Divide the buttercream into 4 portions again, which you colour in the same 4 colours as the batters. Do make sure you save a bit of plain buttercream to stack the cakes and cover the outside. Fill decorating bags with tip #1M with the different colours of buttercream. Start at the bottom. While turning the table you pipe a thick line along the cake. Make two of these lines of top of each other for every colour. Use the last colour to cover the top of the cake as well.
Leave the cake in the fridge in order for the buttercream to stiffen.
Just a little while before you can enjoy your cakes. Don't forget to share your creation:
#funcakesbyme