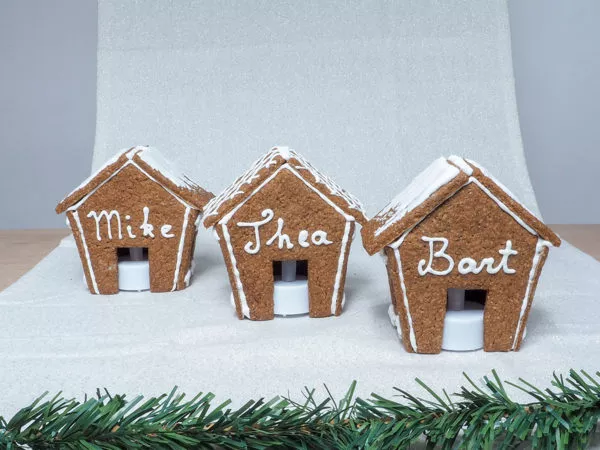 Mini gingerbread houses
These gingerbread houses are perfect as a Christmas treat for yourself or as a gift for your lovedones. You can personalise the houses and create your own magic.
What you need to make your mini gingerbread houses:
Ingredients
500 g FunCakes Mix for Gingerbread
100 g FunCakes Mic for Royal Icing
1 ei (approx. 50 g)
75 ml water
60 gram unsalted butter
Necessities
FunCakes Decorating Bags
FunCakes Magic Roll-Out Powder
Wilton Decorating Tip #2
Wilton -Wide Glide- Rolling Pin
Wilton Parchment Paper
Wilton Cooling Grid
FMM More than a Bird House Cutter
Brush
Sharp knife
Tea lights on battery
Preheat the oven to 180°C (convection oven 160°C).
Prepare 500 grams FunCakes Mix for Gingerbread as indicated on the package. Cover the dough with plastic foil and let it stiffen in the fridge for at least 1 hour.
Roll the dough out on a floured surface (2-3 mm thickness) and cut out the parts for the houses. Use a sharp knife to cut out the windows and the door. Place all the parts on a baking tray covered with parchment paper. Bake the cookies in the middle of the oven for approx. 10 – 12 minutes until done and brown. Let the cookies cool down on a cooling grid.
Prepare 100 grams of FunCakes Mix for Royal Icing as indicated on the package. Put decorating tip #002 in the decorating bags and fill with royal icing. Decorate the cookies as you wish and let it dry. Use royal icing to put the houses together and let them dry.
Place the houses over the tea lights for a festive look.
Just a little while before you can enjoy your cookies. Don't forget to share your creation:
#funcakesbyme