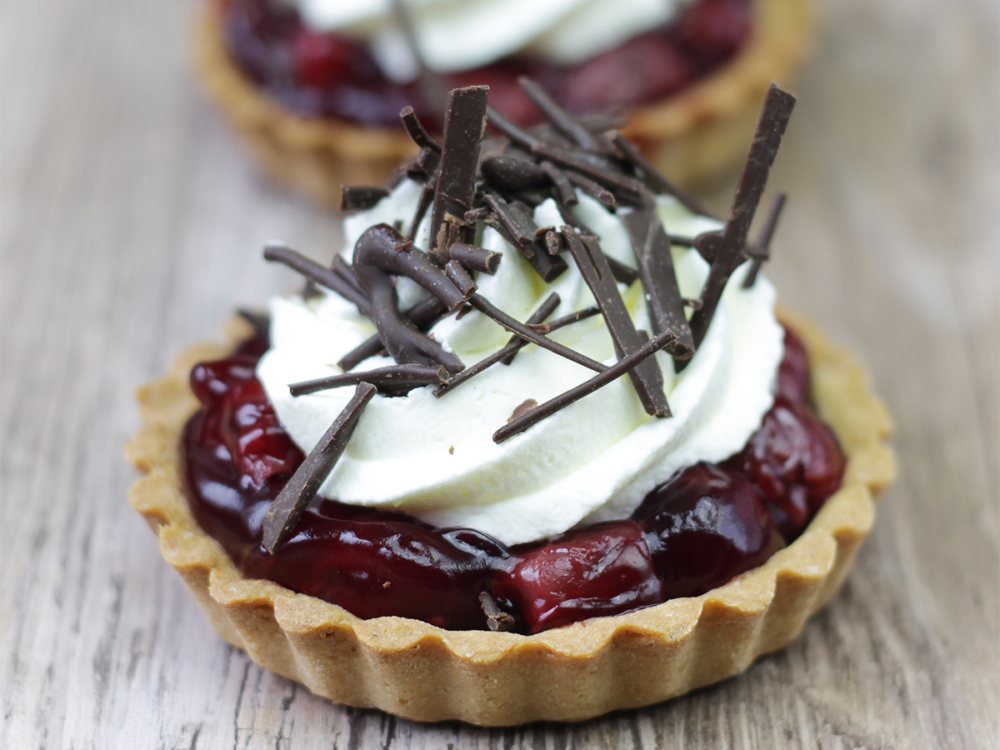 Mini cherry choco tartelettes
A treat, a pastry or a mini cake. Use the Cookie mix, Chocolate melts, cherry pie filling and whipped cream to make this all in one!
What you need to make your mini cherry choco tartelettes:
Ingredients
500 g FunCakes Mix for Cookies
350 g FunCakes Chocolate Melts Dark
500 ml whipped cream
150 g unsalted butter
50 g sugar
1 egg (approx. 50 g)
Cherry pie filling
Necessities
FunCakes Decorating Bags
Wilton Parchment paper
Wilton Cooling rack
Cling Film
Preheat the oven to 180°C (convection oven 160°C).
Prepare 500 g FunCakes Mix for Cookies according to the instructions on the package. Wrap the batter in cling film and let it set in the fridge for at least 1 hour.
Roll out the dough on a floured work surface to approx. 0.5 cm thick. Cut out circles the same size as the pie shells and place the dough in them. Bake them in the middle of the pan for about 12 minutes until golden. Let the cakes cool.
Place 350 g of chocolate melts in a plastic or glass bowl. Place this bowl in the microwave and melt the melts at maximum power (± 800 Watt). Remove the chocolate from the microwave every 15 to 20 seconds and stir well so that the temperature spreads evenly. Keep repeating this until the chocolate is almost completely melted. Stop heating and stir the chocolate well until all pieces of chocolate have dissolved and an even chocolate mass has been obtained.
Cover the inside of de cake with the chocolate and let it harden in the fridge. Fill a decorating bag with the remaining chocolate and pipe stripes from left to right on a piece of paper. Let these stripes harden in the fridge.
Beat the whipping cream with the sugar until stiff. Fill the tarts with the pie filling. Fill a piping bag with the whipped cream and pipe with it and swirl on the cherry filling, decorate with the chocolate.
Just a little while before you can enjoy your treats. Don't forget to share your creation:
#funcakesbyme