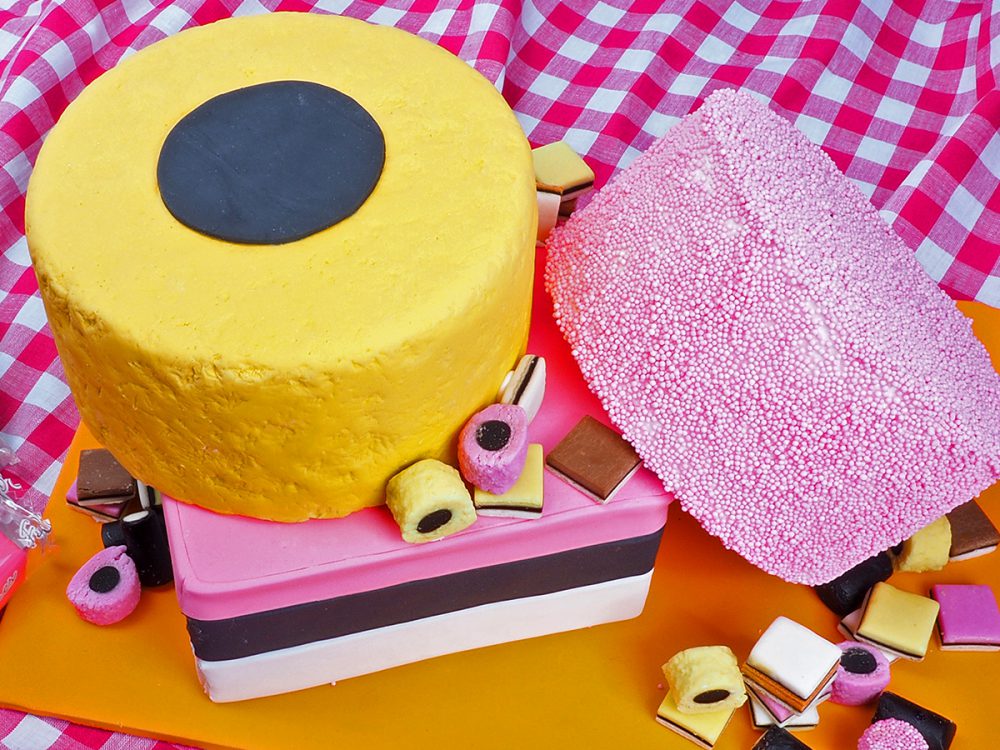 Liquorice fondant cake
No liquorice lover can resist this cake!
What you need to make your liquorice fondant cake:
Ingredients
400 g FunCakes Mix for Sponge Cake Deluxe
125 g FunCakes Mix for Buttercream
350 g FunCakes Flavoured Fondant -Banana-
250 g FunCakes Flavoured Fondant -Licorice-
250 g FunCakes Flavoured Fondant -Bubblegum Pink-
150 g FunCakes Fondant -Bright White-
80 g FunCakes Nonpareils -Light Pink-
FunCakes Clear Piping Gel
165 ml water
6 eggs (approx. 300 g)
150 g unsalted butter
Liquorice
Necessities
FunCakes Bake Release Spray
FunCakes Cake Cards silver/gold ROUND 16cm
FunCakes Cake Dummy Round 7cm -Ø15cm-
Wilton Decorator Preferred Spatula Angled
Wilton Chrome-Plated Cooling Grid
Wilton -Wide Glide- Rolling Pin 50cm
Wilton Ultimate Cake Leveler
Wilton Bamboo Dowel Rods
PME Extra Deep Square Pan 15 x 15 x 10cm
PME Extra Deep Round Cake Pan Ø 15 x 10cm
FMM Multi Ribbon cutter
Cookie Cutter Ring Ø 6,5 cm
Tin foil
Preheat the oven to 180°C (convection oven 160°C).
Prepare 400 grams of FunCakes Mix for Sponge Cake as indicated on the package. Grease the baking pans with Bake Release Spray, divide the sponge cake batter into the square and round baking pan and bake de sponge cakes for 30-35 minutes. Release them on a cooling grid after baking to make them cool down.
Coat the dummy with piping gel and cover it entirely through the pink nonpareils so it's completely covered with the nonpareils.
Cut both sponge cakes twice with a cake leveller and fill the layers with buttercream. Stack them on each other. Lubricate the outside of the cake with a thin layer of buttercream to fill holes and get rid of any bumps. Put it in the fridge for 30 minutes and cover the round cake with banana fondant. Make a plug of aluminum foil and push this against the yellow fondant to create the scabrous effect. Roll out the licorice fondant and cut out a circle, stick it on top of the yellow cake with a bit of water and place the cake in the fridge.
Cover the square cake on top with pink bubblegum fondant. Roll out the pink fondant again and cut out a straight strip with the Multi Ribbon Cutter. Stick it to the upper edge of the cake. Use 1/3 of the height of the cake for the distance between the wheels of the Multi Ribbon Cutter.
Make a black and a white strip of the liquorice and white fondant as well and attach these to the edge of the cake. Stick 4 dowels into the square cake and cut to the right size. Cut the cake board into the same size of the yellow cake and put both on top of the square cake. For a fun effect, don't place the yellow cake exactly in the middle. Place the dummy with nonpareils on its edge agains the other cake and decorate with liquorice.
Just a little while before you can enjoy your cakes. Don't forget to share your creation:
#funcakesbyme