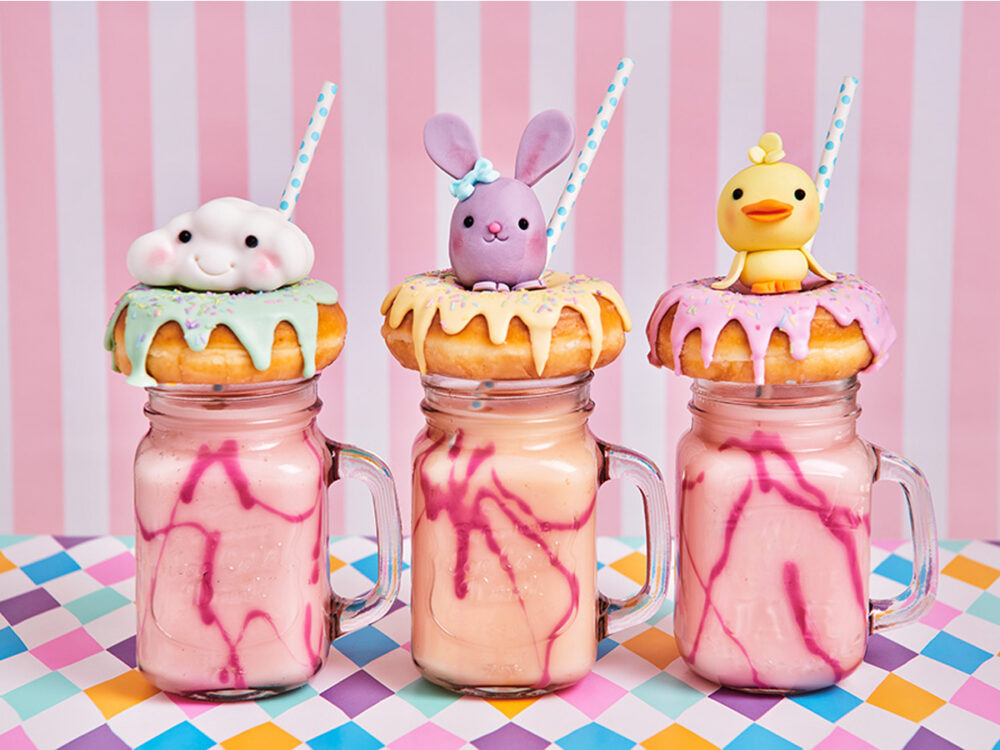 Kawaii milkshake
Are you ready to indulge in a drinkable work of art? Get ready to shake things up with our Kawaii Milkshake! Top it off with a delicious donut and a kawaii figure to give your milkshake that extra bit of sweetness and cuteness. And let's be honest, who can resist a donut on top of anything?
What you need to make your kawaii milkshake:
Ingredients
500 g FunCakes Mix for Donuts
375 g FunCakes Dip 'n Drip White
FunCakes Food Colour Gel Purple
FunCakes Food Colour Gel Yellow
FunCakes Food Colour Gel Aqua
FunCakes Food Colour Gel Pink
FunCakes Deco Melts Pink
FunCakes Sugar Strands Pastel
215 ml water
55 g vegetable oil
Yoghurtdrink
Fine sugar
Necessities
FunCakes Decorating Bags
Wilton Wide Glide Rolling Pin
Patisse Donut & Bagel Cookie Cutter
Frying pan
Prepare 500 g FunCakes Mix for Donuts as indicated on the package. Roll it out to a thickness of 5mm and cut out donut shapes with the cutter. Place them on a plate lined with parchment paper and cover with a clean tea towel. Let rest for 25 minutes.
Heat the frying pan to 180°C and fry the donuts in 3 pieces for about 2-3 minutes until light brown. Sprinkle the fine granulated sugar on a plate and dip the donuts directly in the sugar. Let them cool on kitchen paper.
Divide the 375 g FunCakes Dip 'n Drip between 4 bowls and colour with the 4 colours of FunCakes Food Colour Gels. If necessary, heat in the microwave for 10-15 seconds to get it a little more 'dripping' and put it in a decorating bag. Cut a small tip off this and cover the donuts with a layer of coloured dip 'n drip. Immediately sprinkle the FunCakes Sugar Strands Pastel on top.
Heat some FunCakes Deco Melts Pink as indicated on the package and put it in a decorating bag. Cut a small tip off and drizzle it on the inside of a large glass or clear cup. Let this set in the refrigerator for 5 minutes.
Fill the glass with yogurt drink (or chocolate milk), place a donut on top, decorate with a modeling kawaii figure if you wish and insert a straw. Want to add a sculpted figure? Check our blog 'how to: modeling kawaii figures'.
Just a little while before you can enjoy your treats. Don't forget to share your creation:
#funcakesbyme