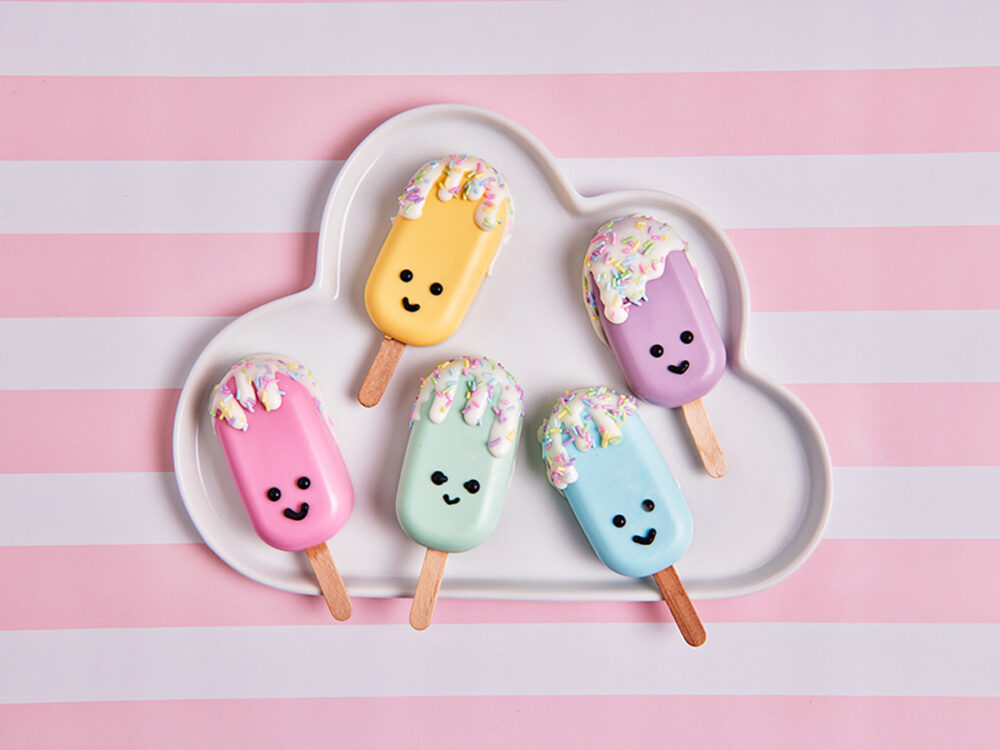 Kawaii ice cream cakesicles
Kawaii ice cream cakesicles are the perfect blend of cake and ice cream, with a pop of color and a whole lot of cuteness. With their adorable faces and vibrant colors, these cakesicles are guaranteed to bring a smile to anyone's face. And the best part? They come in all sorts of flavors and designs, so you can pick and choose your favorites! So why not treat yourself to a little bit of happiness on a stick? You deserve it!
1 hour and 30 min. preparing
What you need to make your kawaii ice cream cakesicles:
Ingredients
500 g FunCakes Mix for Cupcakes
100 g FunCakes Deco Melts Green Apple Flavour
425 g FunCakes Deco Melts Yoghurt Flavour
100 g FunCakes Deco Melts Mango Flavour
100 g FunCakes Deco Melts Purple
100 g FunCakes Deco Melts Blue
100 g FunCakes Deco Melts Black
100 g FunCakes Chocolate Melts White
FunCakes Sugar Strands Pastel
250 g unsalted butter
5 eggs (approx. 250 g)
Necessities
FunCakes Decorating Bags
FunCakes Baking Cups White
Wilton Recipe Right Muffin Pan
Silikomart Ice cream Mould Mini Classic
Preheat the oven to 180°C (convection oven 160°C) and divide the baking cups among the muffin pan.
Prepare 500 g FunCakes Mix for Cupcakes as indicated on the package, divide among the baking cups and bake the cupcakes for about 18-22 minutes until light brown. Let them cool on the countertop.
Crumble some cupcakes and knead some melted white FunCakes Chocolate Melts through them so that you get a firm dough.
Take 4 microwave-safe dishes and divide the FunCakes Deco Melts Yogurt flavour over these with the other colors of Deco Melts. Keep a little bit of the yogurt melts aside. Top each bowl with the yogurt melts with a small amount of the other flavors and colors to achieve pastel colors.
Melt the FunCakes Deco Melts as indicated on the package and spread it into the mold with the back of a teaspoon and insert a stick. Let this set in the fridge for 5 minutes and repeat 1 or 2 more times.
Press the dough into the molds with hardened Melts and cover with a layer of melted Deco Melts. Make sure it covers well, so that you have no gaps between the two layers. Let this set well in the refrigerator and then carefully remove them from the mold.
Put some Yogurt Deco Melts in a decorating bag and make a drip on the cakesicles. Immediately sprinkle some FunCakes Sugar Strands Pastel on top and let this set for 5 minutes in the fridge.
Melt the black Deco Melts in the microwave and put it in a piping bag. Cut off a small tip and pipe eyes and a mouth on the popsicles. Let this also stiffen in the refrigerator.
Just a little while before you can enjoy your treats. Don't forget to share your creation:
#funcakesbyme