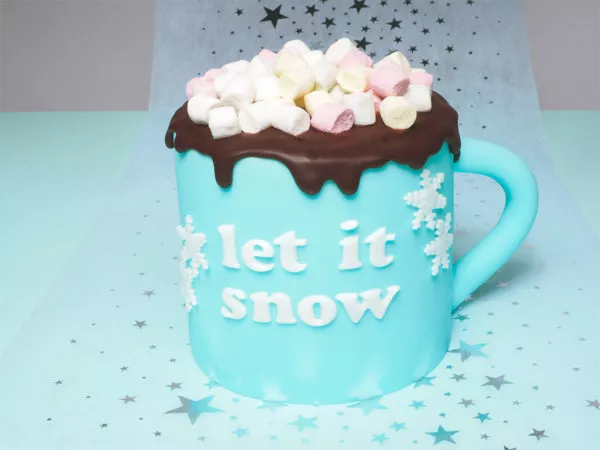 Hot chocolate cake
In the winter season we drink liters of hot chocolate to stay warm and we simply love it, especially with a bit of whipped cream and marshmallows. That's why we created a hot chocolate mug cake! Who are you inviting over for a slice of cake?
What you need to make your hot chocolate cake:
Ingredients
200 g FunCakes Mix for Sponge Cake
125 g FunCakes Mix for Buttercream
600 g FunCaken Fondant Bright White
100 g FunCakes Mix voor Royal Icing
FunCakes Flavour Paste White Choco
FunCakes Funcolours Gel Baby Blue
FunCakes Funcolours Gel Brown
FunCakes Dip 'N Drip White
FunCakes Mini Marshmallows
FunCakes Edible Glue
3 eggs (approx. 150 g)
160 ml water
150 g unsalted butter
Necessities
FunCakes Bake Release Spray
FunCakes Decorating Bags
FunCakes Magic Roll-Out Powder
Wilton Cake Leveler
Wilton Decorator Preferred Spatula Angled
Wilton -Wide Glide- Rolling Pin
2 PME Deep Round Cake Pan Ø 10 x 7,5cm
PME Snowflake Plunger Cutter
FMM Alphabet Tappits Lower Case
FMM Knife/Scriber Tool
Brush
Colour 100 grams of white fondant light blue. Make two ears out of the blue fondant for the mug. For this you make two rolls that you dry in the shape of an ear.
Tip! Ideally, you make these 1 to 2 days earlier so that it can dry properly.
Preheat the oven to 180°C (convection oven 160°C).
Prepare 200 grams of FunCakes Mix for Sponge Cake as indicated on the package. Grease the baking pans with baking spray and divide the sponge cake batter into the two pans. Bake the sponge cakes for 30 – 35 minutes and release them on a cooling grid right after baking.
Prepare 125 grams of FunCakes Mix for Buttercream as indicated on the package and flavour the buttercream to taste with the white choco flavour paste. Cut both cakes twice using a cake leveler and fill the layers with buttercream and grease the sides.
Colour 400 grams of white fondant light blue. Roll this out into an elongated piece and only cover the sides of the cakes. Cut away the remaining fondant with a knife.
Roll out 100 grams of white fondant very thinly (1 mm) and cut out the snowflakes. For the tappits you also roll out the white fondant very thinly and cut into squares that are slightly larger than the tappit letters and leave to dry for 10 minutes. Then place the tappit on a square, slide back and forth and gently tap the tappit on the table. The letters should come out easily. If this is not the case, your fondant is rolled out too thick. Glue the letters and snowflakes with some edible glue on the cake and add the ear using some royal icing.
Heat a few full tablespoons of Dip 'n Drip in the microwave for 10 seconds and color it brown. Fill a decorating bag with the drip  and fill the whole top of the cake with it and let some of it slide down from the egde. Sprinkle the mini marshmallows on top.
Just a little while before you can enjoy your cakes. Don't forget to share your creation:
#funcakesbyme