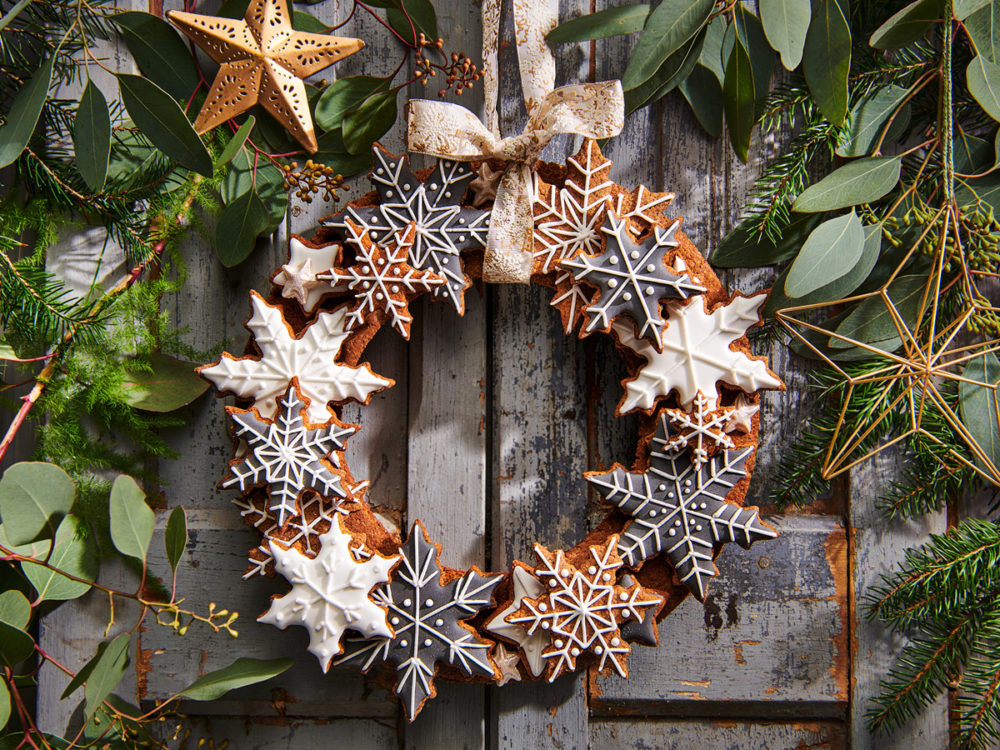 Gingerbread Christmas wreath
Create that instant Christmas feeling with this Gingerbread Christmas Wreath! Perfect for a creative afternoon during the holidays. Give this wreath your personal touch by decorating the cookies the way you like!
What you need to make your gingerbread christmas wreath:
Ingredients
1000 g FunCakes Special Edition Mix for Gingerbread
450 g FunCakes Mix for Royal Icing
FunColours Gel Black
FunCakes Fondant Decoration Stars Pearls
175 ml water (+ some extra for the Royal Icing)
120 g unsalted butter
2 eggs (approx. 100 g)
Necessities
FunCakes decorating bag
Wilton Tip #002 Round (multiple)
Wilton – Wide Glide – Rolling Pin 50cm
PME Modelling tools Scriber Needle
PME Star Cutter Set/6
Cookie Cutter Ice crystal set/5
Multiple bowls
Prepare 1000 g FunCakes Mix for Gingerbread as indicated on the package, wrap the dough in cling film and place in the refrigerator for at least an hour.
Preheat the oven to 180 ° C (convection oven 160 ° C).
Knead the dough from the fridge equally well and roll it out to a thickness of about 3-4 mm and cut into two equal rings. Bake these rings in a preheated oven for about 15-18 minutes. Because the circles are a bit thicker than the cookies, they need a little longer baking time.
Roll out the rest of the dough to a thickness of 2-3 mm and cut out various sizes of stars and ice crystals. Bake the cookies for 12-16 minutes at 180 ° C (convection oven 160 ° C). Let the cookies cool on the counter.
Prepare 450 g FunCakes Mix for Royal Icing as indicated on the package. When the royal icing is nice and stiff, scoop a few large spoons in two bowls. You are going to dilute this to yogurt thickness with some water, which you gradually add while stirring. The 10 second rule applies here. Stir just as much water into the stiff royal icing that it forms a mirror again in 10 seconds in the container and is completely smooth. Do really little bits at a time and then stir, if you use too much water the royal icing will drip off your cookies and if it is too thick it will not spread nicely on your cookie.
You can also make cookies that you are going to completely fill with royal icing a day in advance and let them dry in the air overnight, then the chance that you will break them when you decorate because it may still be too wet.
Color 1 cup of royal icing with the black gel gray and put both cups away under a wet towel to get air bubbles to the top. After half an hour you prick all the air bubbles with a needle and you can put it in a decorating bag with # 002. Fill a number of cookies with this, push the icing nicely into the ends with the help of the needle and let it dry for a few hours before you continue to spray it. 
Put some white stiff royal icing in a decorating bag with # 002 and pipe an ice crystal pattern according to your own wishes on both the royal icing-filled cookies and the undecorated cookies and let it dry.
Stick the two circles together with some royal icing and stick the dry cookies on top. Stick a small fondant star here and there. Decorate with a nice big bow made of a nice ribbon.
Just a little while before you can enjoy your cookies. Don't forget to share your creation:
#funcakesbyme