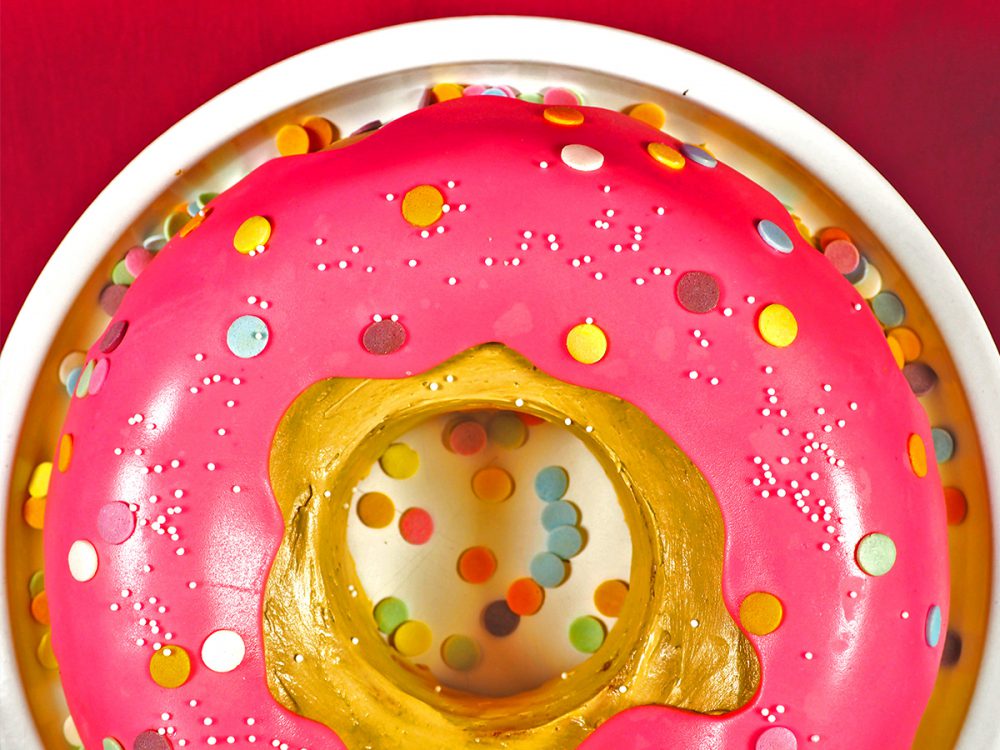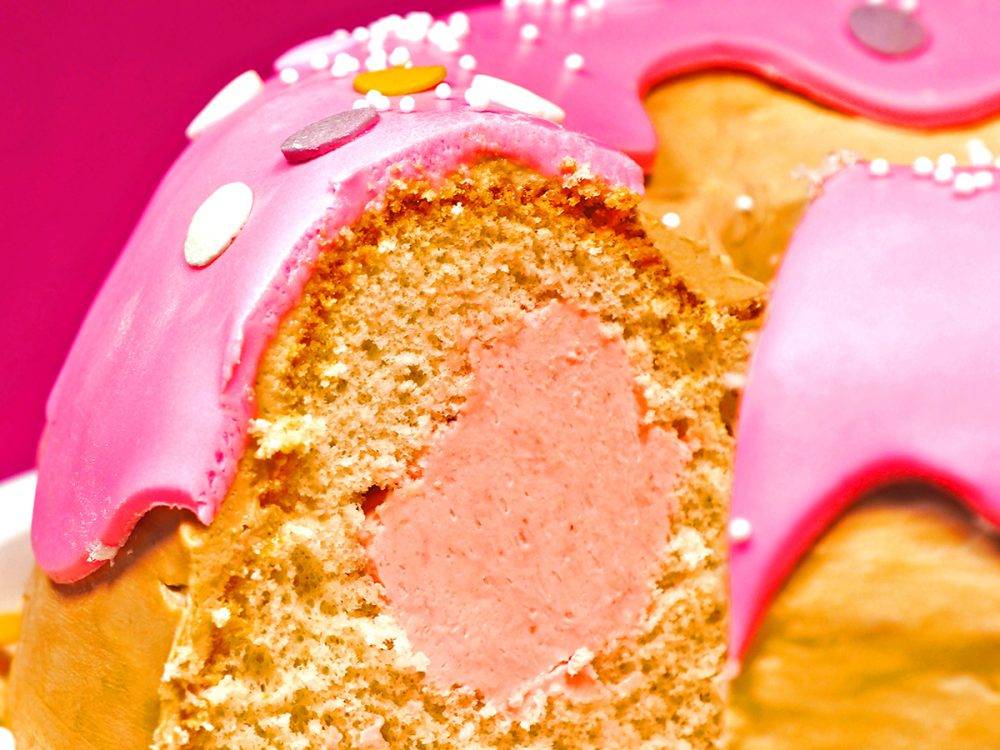 Giant donut cake
Cravings for a delicious donut? What do you think of this giant donut?
What you need to make your giant donut cake:
Ingredients
330 g FunCakes Mix for Sponge Cake Deluxe
200 g FunCakes Mix for Buttercream
FunCakes Flavour Paste -Zesty Strawberry-
300 g FunCakes Fondant -Pretty pink-
FunCakes Edible FunColours Gel – Brown
FunCakes Pastel confetti XL
FunCakes Nonpareils -White-
233 ml water
6 eggs (approx. 300 g)
250 g unsalted butter
Necessities
FunCakes Disposable Decorating Bags
FunCakes Bake Release Spray
Wilton Decorator Preferred Spatula Angled
Wilton Chrome-Plated Cooling Grid
Wilton Ultimate Cake Leveler
Wilton -Wide Glide- Rolling Pin 50cm
PME Modelling tools, Cutting Wheels
Kaiser Bundt Pan Classic -26cm-
Preheat the oven to 175°C (convection oven 160°C).
Prepare 330 grams of FunCakes Mix for Sponge Cake as indicated on the package. Grease the baking pans with Bake Release Spray, divide the sponge cake batter into the baking pan and bake de sponge cake for 30-35 minutes. Don't open the oven between! The cake is ready when it feels springy to the touch. Release it on a cooling grid after baking to make them cool down.
Prepare 200 grams of FunCakes Mix for Buttercream as indicated on the package. Divide cream into two parts and add the flavouring to one part. Add the icing color to the other part to make the cream light brown.
Cut the cake once with the cake leveller. Hollow both sides a bit with a spoon. Fill both sides with the strawberry buttercream and place them back on each other. Lubricate the outside of the cake with a thin layer of light brown cream and let this stiffen in the fridge for 30 minutes. Cover the outside again with a thin layer of cream and place it back in the fridge. Make the cake smoother using a warm spatula.
Knead the pink fondant well and roll this out to a round. Use the cutting wheel to make a wavy edge. Do the same with the inside of the round. Place the fondant on the donut and lubricate the fondant with a thin layer of water, to give it a shiny look. Paste the XL confetti and the nonpareils on the fondant to finish the cake.
Just a little while before you can enjoy your cakes. Don't forget to share your creation:
#funcakesbyme