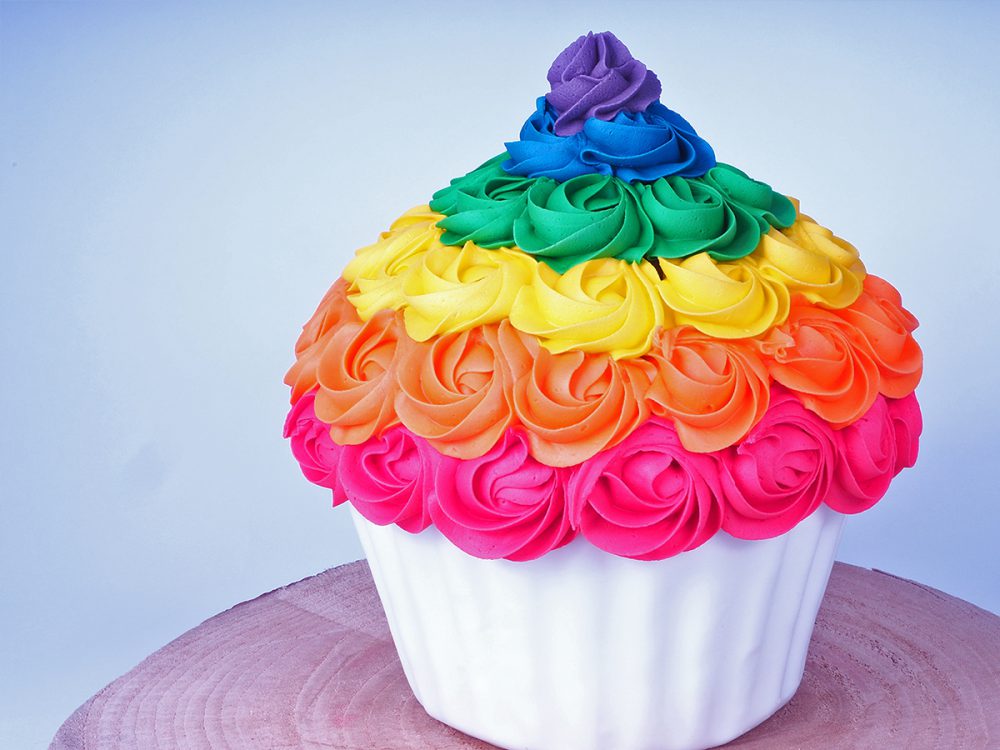 Giant cupcake cake
What is better than a cupcake? A GIANT cupcake cake! This cupcake cake is huge and is especially for all the cupcake covers.
1 hour and 10 min. cooking
What you need to make your giant cupcake cake:
Ingredients
750 g FunCakes Mix for Cupcakes
400 g FunCakes Mix for Buttercream
450 g FunCakes Fondant - Bright White
FunCakes Flavour Paste -Cookie-
FunCakes Flavour Paste -Vanilla-
FunCakes Edible FunColours Gel – Royal Blue
FunCakes Edible FunColours Gel – Yellow
FunCakes Edible FunColours Gel – Poppy Red
FunCakes Edible FunColours Gel – Bright Green
FunCakes Edible FunColours Gel – Orange
FunCakes Edible FunColours Gel – Purple
7 ½ eggs (approx. 375 g)
875 g unsalted butter
400 ml water
Necessities
FunCakes Bake Release Spray
FunCakes Disposable Decorating Bags
Wilton Dimensions® Large Cupcake Pan
Wilton Decorating Tip #1M Open Star Carded
Wilton Chrome-Plated Cooling Grid
Wilton -Wide Glide- Rolling Pin 50cm
Evt. Tin foil
Preheat the oven to 180°C (convection oven 160°C).
Prepare 750 grams of FunCakes Mix for Cupcakes as indicated on the package and add a bit of cookies flavouring to the cupcake batter. Grease the cupcake pan with cake release and divide the batter into the cupcake pan. Bake the cakes for 60-70 minutes. In case the cake already gets dark while it isn't ready yet, cover it with a piece of tinfoil and keep on baking it. This way the cake will get ready without getting too dark. Let the cakes cool down completely on a cooling grid afterwards.
Prepare 400 grams of FunCakes Mix for Buttercream as indicated on the package and add some vanilla flavouring paste. Divide the cream in 7 portions and colour these with the FunColours Gels. One portion stays uncoloured.
Cover the bottom of the cupcake with a thin layer of buttercream to fill holes and get rid of any bumps. Put it in the fridge for 30 minutes and cover it with white fondant.
Paste the top of the cupcake on the bottom with a bit of buttercream. Put in the #1M pipe in the decorating bags and fill them with buttercream. Make a line of rosettes with one colour, starting at the bottom of the upper part. Repeat this until you've reached the top while you change colours for every line. Leave the cake in the fridge until further use in order for the buttercream to stiffen.
Just a little while before you can enjoy your cakes. Don't forget to share your creation:
#funcakesbyme