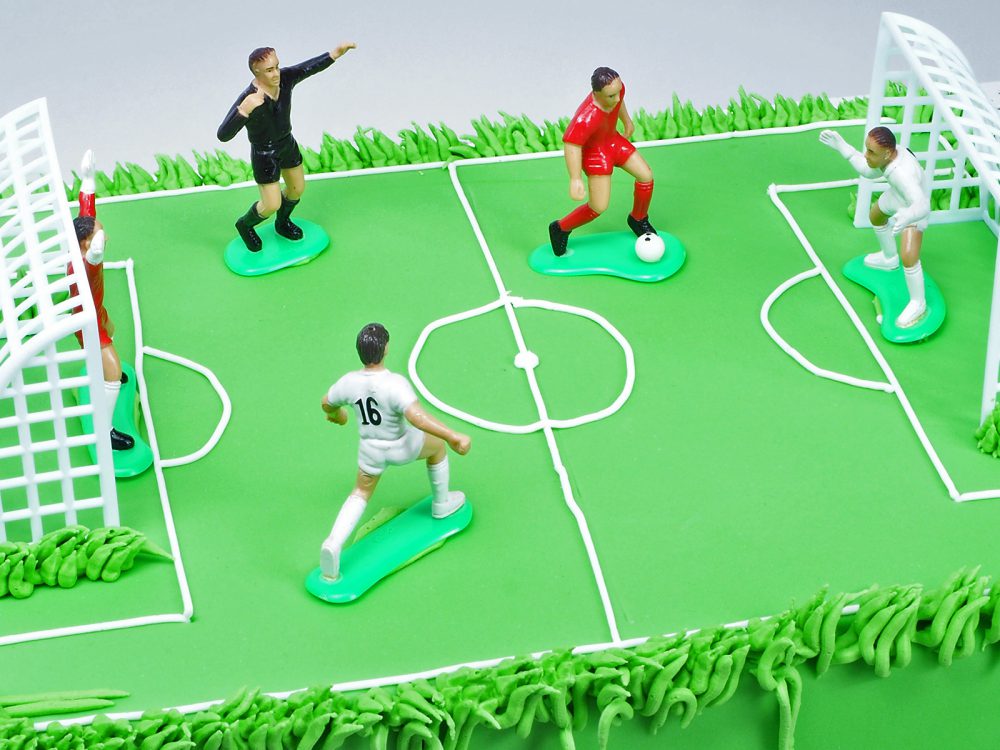 Football cake
This is the perfect cake for all soccer lovers!
What you need to make your football cake:
Ingredients
400 g FunCakes Mix for Sponge Cake
325 g FunCakes Mix for Buttercream
150 g FunCakes Mix for Crème Patisserie
700 g FunCakes Fondant –Bright White-
FunCakes Edible FunColours Gel – Bright Green
6 eggs (approx. 300 g)
740 ml water
400 g unsalted butter
Necessities
FunCakes Bake Release Spray
FunCakes Disposable Decorating Bags
FunCakes Magic Roll-Out Powder
Wilton Cake Pan Countless Celebrations
Wilton Cake Decorating Football-Soccer Set/7
Wilton -Wide Glide- Rolling Pin 50cm
Wilton Chrome-Plated Cooling Grid
Wilton Decorating Tip #233 Multi-open Carded
Wilton Decorating Tip #002 Round Carded
Wilton Ultimate Cake Leveler
Wilton Decorator Preferred Spatula Angled
Preheat the oven to 180°C (convection oven 160°C).
Prepare 400 grams of FunCakes Mix for Sponge Cake as indicated on the package and add some green colour gel to the batter. Grease the baking pan with Bake Release Spray and fill with the sponge cake batter. Bake the cake for 35-40 minutes and release directly after baking on a cooling grid to let it cool down completely.
Cut the sponge cake twice using a cake leveller. Put a layer of crème patisserie on the first layer and stack the second layer on top. Apply a layer of buttercream on the second layer and stack it with another cake layer. Divide the remaining buttercream in two portions, one small one which stays white and another bigger portions which you colour green. Fill a decorating bag with tip #233 with the green buttercream and a bag with tip #2 with the white buttercream.
Knead the fondant and colour it green. Roll out on a with Magic Roll-Out Powder covered work surface to a thickness of 2-3mm and cover the cake with it.
Use the white buttercream to make the lines of the field. Place the goals and the player on the field and make them stick with a bit of buttercream. Create grass around the field using the green buttercream. Place the cake in the fridge until further use.
Just a little while before you can enjoy your cakes. Don't forget to share your creation:
#funcakesbyme