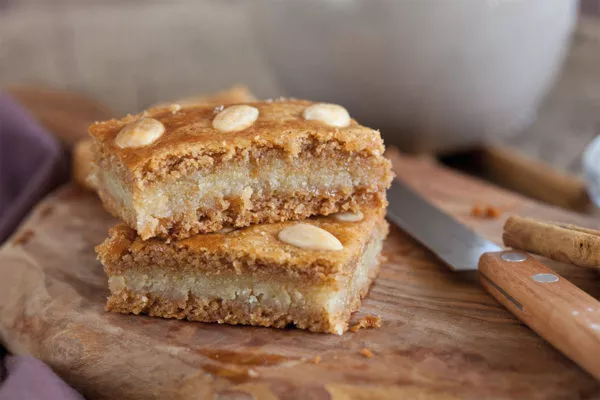 Filled speculoos
Delicious homemade speculoos with almond paste as a filling …. Delicious, isn't it? Delicious with tea, coffee or as as a snack!
What you need to make your filled speculoos:
Ingredients
400 g FunCakes Mix for Cookies
500 g FunCakes Almond paste
12 g FunCakes Speculoos Spice
10 g FunCakes baking powder
125 g unsalted butter
20 g brown sugar
3 eggs (aproxx. 150 g)
Lemon zest (to your own taste)
Almonds or almond flakes
Necessities
Wilton Recipe Right Square Pan 20x20cm
First prepare the speculoos dough by mixing 400 g FunCakes Mix for Cookies with 1 egg, the butter, the brown sugar, the baking powder and the gingerbread spices. Let the dough come to taste in the refrigerator for at least 24 hours.
Preheat the oven to 180 ° C (convection oven 160 ° C).
Mix the almond paste with 1 beaten egg (and possibly some lemon zest) and knead well. Divide the gingerbread dough into 2 parts. Roll a piece of dough from 1 part and use it to cover a greased baking tin measuring approximately 20 by 20 centimeters.
Roll out the almond paste between 2 pieces of cling film or baking paper into a layer that is slightly smaller than the baking tin. Put it on the dough layer. Leave about 1 centimeter from the edge. Now roll a piece of the other half of the dough and put it on top of the first layer. Press the edges well so that the food does not touch the edges of the baking tin.
Beat the last egg and cover the top layer with this egg. Divide the almonds or the almond shavings on top and coat again with a layer of egg. Bake the filled speculoos for about 30-35 minutes until they are nicely browned.
Just a little while before you can enjoy your treats. Don't forget to share your creation:
#funcakesbyme