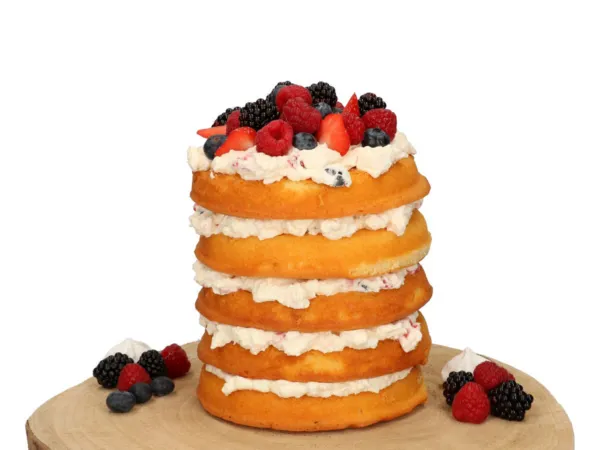 Eton mess naked cake
An Eton mess naked cake is a combination of cupcake mix with meringue, fruit and whipped cream as topping and filling. Sounds irresistible and also a picture to see!
What you need to make your eton mess naked cake:
Ingredients
500 g FunCakes Mix for Cupcakes
10 g FunCakes Egg White Powder
3 tbsp FunCakes Icing Sugar
400 ml of whipped cream
250 g unsalted butter
140 g fine granulated sugar
60 ml of water
5 eggs (approx. 250 g)
2 sachets of whipped cream stiffener
Strawberries
Blueberries
Raspberries
Blackberries
Necessities
FunCakes Bake Release Spray
FunCakes decorating bags
Wilton Easy Layers Cake Pan 15 cm
Wilton decorating tip # 1M
Wilton baking paper
Wilton cooling grid
Preheat the oven to 120°C (convection oven 100°C).
Place 10 g egg white powder powder and 60 ml water in a bowl and stir well. Let this stand for 10 minutes. Beat the egg whites on the highest setting to a white foamy consistency. While turning on the highest setting, add the fine granulated sugar in parts and let it mix until it becomes a stiff foam that draws peaks.
Put the foam in a decorating bag with # 1M and pipe swirls on a baking tray lined with parchment paper. Let the meringues dry in the oven for 1.5 hours at 120°C (convection oven 100°C).
Then preheat the oven to 180°C (convection oven 160°C).
Prepare 500 g FunCakes Mix for Cupcakes according to the instructions on the package. Spray the frying pans with Bake Release Spray and divide the batter over the 5 pans. Bake the cakes for 20-25 minutes and then put them on a cooling grid to allow to cool.
Beat the whipped cream with the icing sugar and the 2 bags of whipped cream stiffener until stiff. Crumble some meringues and add this together with the finely chopped strawberries to the whipped cream. Fold gently. This is the eton mess.
Stack the cakes on top of each other with a good layer of eton mess between each layer. Also finish with a good layer of eton mess and finish the top with the different types of fruit and some meringues.
Just a little while before you can enjoy your cakes. Don't forget to share your creation:
#funcakesbyme