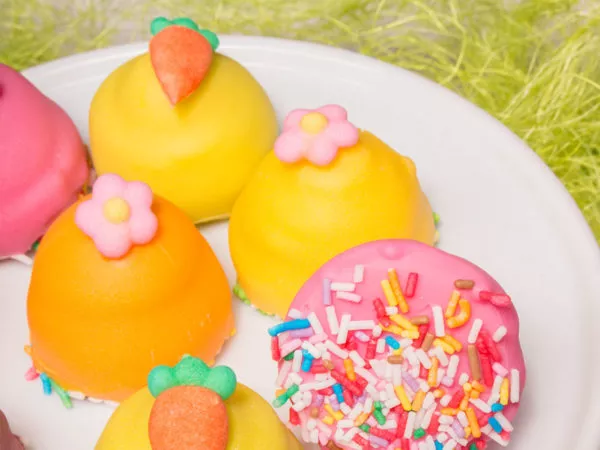 Easter truffels
These wonderfully creamy Easter truffles are perfect for coffee or couple brunch. The cream melts on your tongue, which is delicious in combination with the chocolate that perfectly combines with the creamy taste.
What you need to make your easter truffels:
Ingredients
250 g FunCakes Icing Sugar
FunCakes Deco Melts Yellow
FunCakes Deco Melts Orange
FunCakes Deco Melts Light Green
FunCakes Deco Melts Pink
FunCakes Deco Melts Purple
FunCakes Sugar Decoration Carrots
FunCakes Sugar Decoration Small Flowers
FunCakes Nonpareils -Spring-
FunCakes Sugar Strands -Colour Mix-
250 g unsalted butter
150 ml whipped cream
Bag vanilla sugar
Necessities
FunCakes Decorating Bags
Wilton Decorating Tip #2A
Wilton Parchment Paper
Skewers
Microwave-safe dishes
Mix 250 grams of butter, 250 grams of Icing Sugar, 150 ml of whipped cream and a sachet of vanilla sugar at low speed in about 10 minutes to a smooth cream.
Tip! It seems as if it is going to be separated, but if you just keep on mixing it will become smooth.
Line a baking sheet with a sheet of parchment paper. Put decorating tip #2A in a decorating bag and fill with the cream. Spray high caps on the parchment paper and insert a skewer. Put this in the freezer for about half an hour.
Melt the deco melts at max. 500W in a bowl. Stir well every 15-20 seconds. Stop heating when the melts are almost completely melted (small bits of melts still visible). Keep stirring until the melts are smooth and completely melted.
Sprinkle the nonpareils and sugar strands on a dish. Remove the frozen cream caps from the freezer and dip them in the melts. Tap off the excess and dip them directly in the sprinkles. Let it set in the fridge. Dip 6 to 7 caps at a time because of the defrosting. Remove the skewers from the truffles with a twist and apply a decoration with some melted deco melts on the hole.
Tip! You can keep the truffles in the fridge for about a week.
Just a little while before you can enjoy your treats. Don't forget to share your creation:
#funcakesbyme