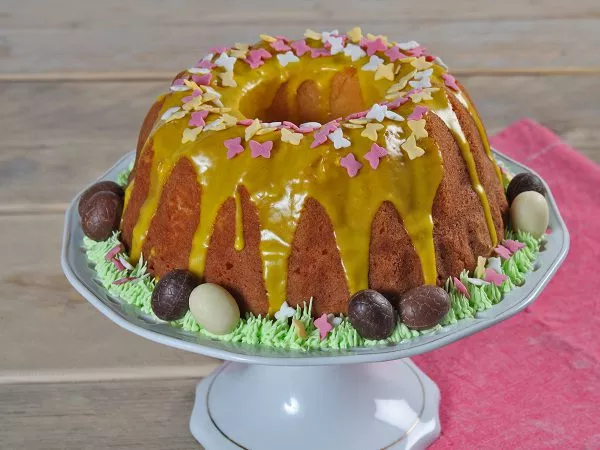 Easter bundt cake
It's almost Easter and with this Easter bundt with glaze you are ready for your Easter brunch!
1 hour and 15 min. cooking
What you need to make your easter bundt cake:
Ingredients
500 g FunCakes Mix for Cupcakes
375 g FunCakes Dip 'n Drip White
FunCakes Edible FunColours Gel – Yellow
FunCakes Butterflies Mix
250 g FunCakes Mix for Royal Icing
FunCakes Edible FunColours Gel – Bright Green
5 eggs (approx. 250 g)
250 g butter
30 ml water
Chocolate Easter eggs
Necessities
FunCakes Bake Release Spray
FunCakes Disposable Decorating Bags
Wilton Decorating Tip #233 Multi-open Carded
Wilton Recipe Right® Fluted Tube Pan -24cm-
Wilton Chrome-Plated Cooling Grid
Preheat the oven to 160°C (convection oven 140°C).
Prepare 500 grams of FunCakes Mix for Cupcakes as indicated on the package. Grease the baking pan with Cake Release Spray and fill the baking pan with the batter. Bake the cake in approx. 75 minutes. Let the cake cool down in the pan for 5 minutes and then on a cooling grid.
Mix a a few tablespoons of fondant glaze with some yellow colouring in a bowl. Stir it and preheat it for a bit in the microwave until it is liquid. Carefully cover the cake with the glaze and sprinkle some butterflies on top.
Colour the royal icing green and put tip #233 in a decorating bag. Fill the bag with the icing and spray an edge of grass along the cake. This is done by turning the tip against the cake, and then very gently squeezing the bag. If the grass is long enough then you stop squeezing and pull the bag away. Repeat until you're around. Decorate the grass with some chocolate eggs.
Just a little while before you can enjoy your cakes. Don't forget to share your creation:
#funcakesbyme