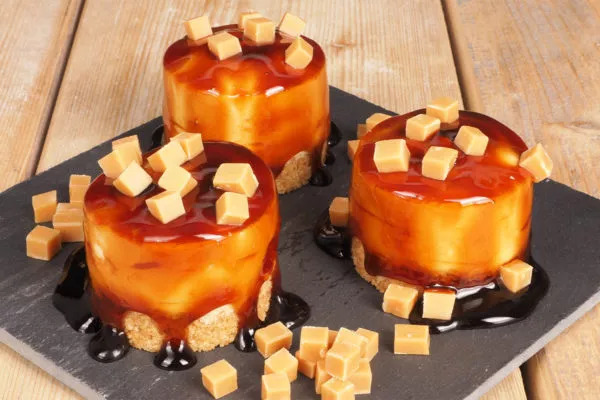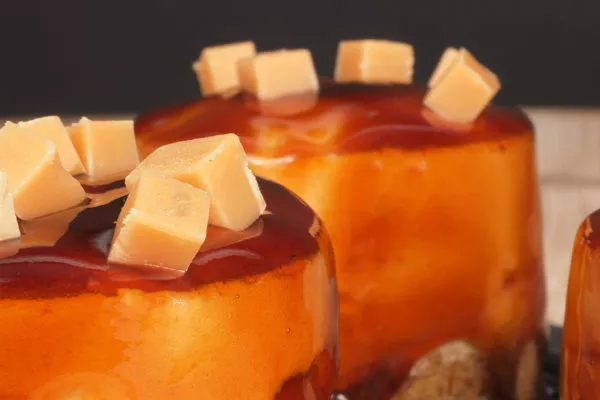 Divine caramel pastries
The real caramel lovers will be very happy with these caramel pastries. With these divine caramel pastries you will get nothing but praise from your guests. Triple caramel in one cake, enjoy!
2 hour and 10 min. waiting
What you need to make your divine caramel pastries:
Ingredients
150 g FunCakes Mix for Bavarois – Natural
FunCakes Flavour Paste - Caramel
1 jar of FunCakes Glaze Topping – Caramel
250 ml whipped cream
60 ml water
50 g salted (cream) butter
Bag of Lonka caramels
Roll whole wheat cookies
Necessities
FunCakes Acetate Roll
Multiple round cutters
Crumble half a roll of cookies into a fine powder. Melt the butter in the microwave, add half of the melted butter to the crumbs and stir. If it is too dry, add a little more melted butter. Place acetate foil in the rings, spoon two tablespoons of cookie crumbs into each ring and press. Place this in the fridge for 10 minutes.
Fill the rings with bavarois and let it set in the fridge for at least two hours. Just before serving, remove the pastries from the refrigerator and pour a nice layer of caramel glass topping over it. Only then remove the ring and the acetate foil. The thicker your caramel glaze layer is, the more it will drip over the cake. Finally, cut a handful of Lonka caramels into small cubes and decorate the pastries with this.
Just a little while before you can enjoy your treats. Don't forget to share your creation:
#funcakesbyme