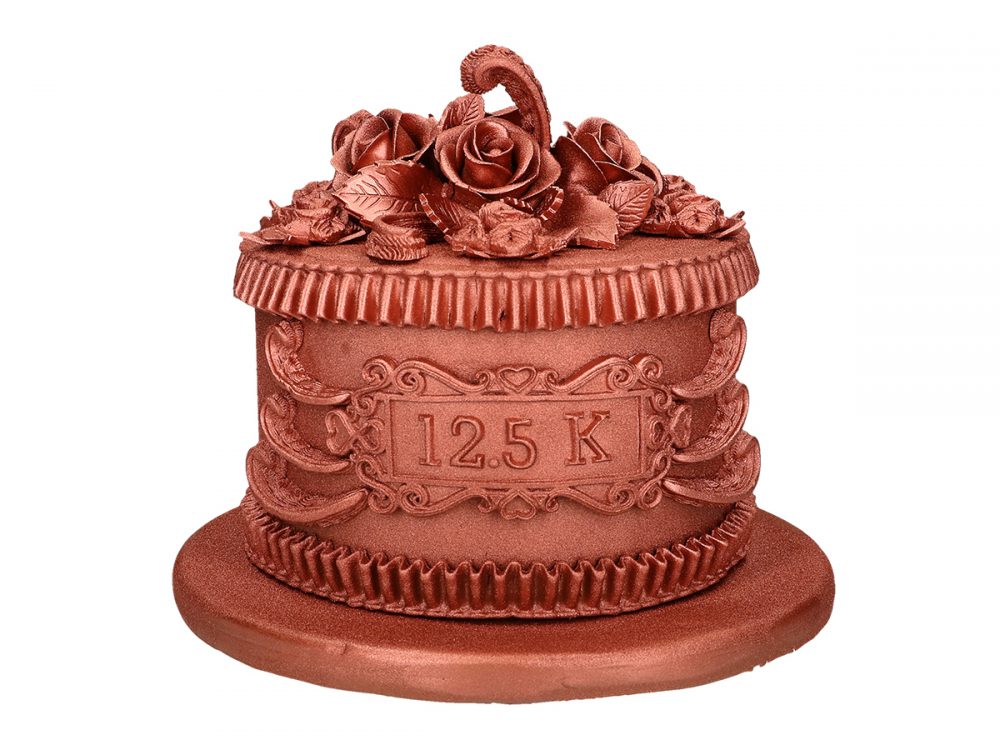 Copper wedding cake
Reach your 12,5th wedding day and you still love each other? That's worth a copper wedding cake!
1 hour and 30 min. preparing
What you need to make your copper wedding cake:
Ingredients
150 g FunCakes Mix for Sponge Cake
125 g FunCakes Mix for Buttercream
750 g FunCakes Fondant -Maroon Brown-
FunCakes Flavour Paste of your choice
FunCakes FunColours Metallic Spray -Copper-
140 ml water
3 eggs (approx. 150 g)
150 g unsalted butter
Necessities
FunCakes Bake Release Spray
FunCakes Magic Roll-Out Powder
Wilton Decorator Preferred® Deep Round Pan Ø 15x7,5cm
Wilton -Wide Glide- Rolling Pin 50cm
Wilton Ultimate Cake Leveler
Wilton Chrome-Plated Cooling Grid
Katy Sue Mould Cake System Small Ruffle
Katy Sue Mould Rose
Katy Sue Mould Decorative Plaque - Rectangle Hearts
PME 5 petal cutter 50mm
PME Rose leaf plunger cutter MED
PME Plain Edge Side Scraper
FMM Alphabet & Numbers tappits Upper Case
Prepare the rose one day in advance. To create the roses, roll out some brown fondant and cut out the flowers with the 5-petal cutter. You will need 2 flowers for each rose. Turn a small ball of fondant into a drop shape between your fingers and glue a flower shape with some edible glue around it. Add the second layer around it. Let the roses dry in standing position.
Knead some brown fondant until smooth again and use the Katy Sue molds to make a plaque, roses and enough ruffles to go around your cake. Place this under a piece of cling film to prevent it from drying out. Roll out a another piece of fondant very thinly. Squeeze out rose petals with the plunger to create the letters or numbers of your choice with the tappits. Again, leave it under a piece of cling film.
Preheat the oven to 180°C (convection oven 160°C).
Prepare 150 grams of FunCakes Mix for Sponge Cake as indicated on the package. Grease the baking pan with Bake Release Spray and fill with the sponge cake batter. Bake for 30-35 minutes and then release it on a cooling grid to cool down.
Prepare 125 grams of FunCakes Mix for Buttercream as indicated on the package and add flavour paste to taste. Cut the sponge cake twice using a cake leveller and fill te layers with buttercream. Apply a thin layer of buttercream on the cake to fill holes and get rid of any bumps and put it in the frigde for a while. Apply antoher layer of buttercream using a side scraper to straighten the edges but save a little buttercream for on top of the cake.
Sprinkle your work surface with Magic Roll-Out Powder and knead the remaining fondant smoothly. Roll this out to a thickness of 2-3 mm and cover the cake. Smoothen the edges using a smoother.
Glue the ruffles along the edges of the cake with some edible glue. Finish the plaque with the name or numbers of your choice and glue it to the cake. Put a little bit of buttercream on top of the cake and arrange the roses and leaves around it.
Once everything is attached to the cake, spray it completely copper with the metallic spray. Let it air dry for 10 minutes.
Just a little while before you can enjoy your cakes. Don't forget to share your creation:
#funcakesbyme