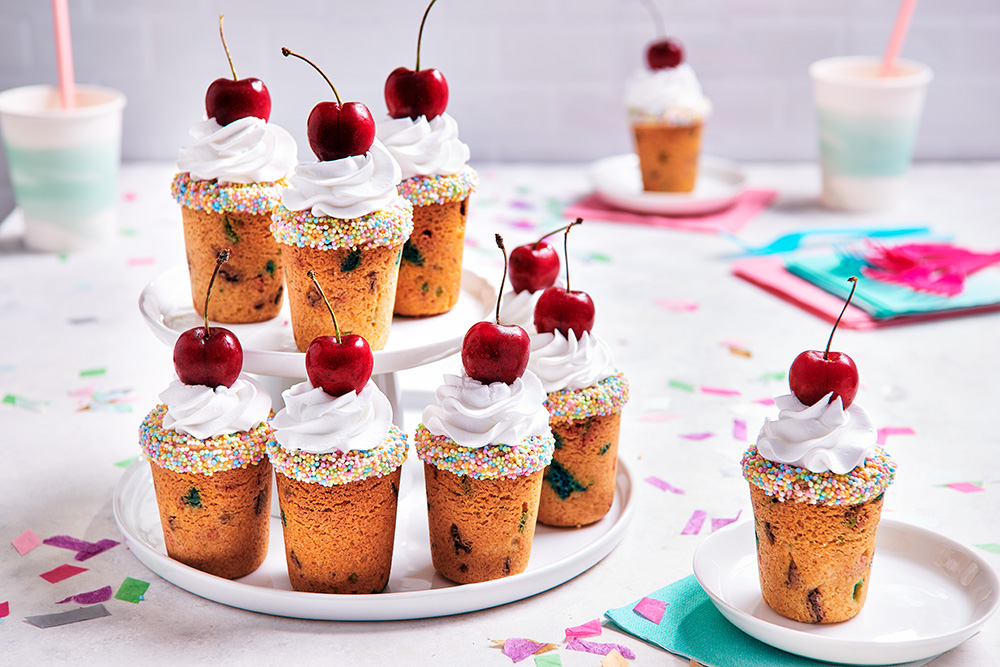 Cookie shots with cherry bavarois
Discover the magic of our Cookie Shots with Cherry Bavarois recipe! These adorable shot-shaped cookies offer a fun twist to your baking endeavors. Fill them with your favorite treats like buttercream, bavarois, or even delightful beverages (yes, even for adults!). Get ready to indulge in a delightful adventure of flavors with FunCakes!
What you need to make your cookie shots with cherry bavarois:
Ingredients
500 g FunCakes Mix for Cookies
50 g FunCakes Mix for Bavarois Naturel
75 g FunCakes Mix for Enchanted Cream®
15 g FunCakes Flavour Paste Cherry
125 g FunCakes Deco Melts White
FunCakes Deco Melts Blue
FunCakes Deco Melts Pink
FunCakes Deco Melts Green
FunCakes Nonpareils Pastel
FunCakes Bake Release Spray
95 ml water
50 ml milk
250 ml whipped cream
1 egg (approx. 50 g)
150 g unsalted butter
Cherries
Necessities
FunCakes Decorating Bags
Wilton Cookie Shot Glass Pan
Wilton Decorating Tip #1m Open Star
Dr. Oetker Pastry Brush With Wooden Handle 19,5x2,4 Cm
Prepare 500 g FunCakes Mix for Cookies as indicated on the package. Chop the FunCakes Deco Melts Blue, Pink and Green with a knife and knead this through the cookie dough.
Preheat the oven to 180°C (convection oven 160°C) and spray the baking pan with FunCakes Bake Release Spray (don't forget to grease the inserts on the outside!)
Fill the holes of the baking tin halfway with a piece of cookie dough and push the inserts in. Bake for about 17-19 minutes. Immediately after baking, cut the edges of the cookies while it is still warm, so you get nice tight edges. To do this, leave the inserts still in the cookies. Then carefully remove the cookies from the mold and let them cool.
Melt the FunCakes Deco Melts White in the microwave according to the instructions on the packaging and smear the inside of the cookie shot glasses with it. Let it set in the fridge for a while. Dip the rims of the glasses in the white Deco Melts and then dip the rims in the FunCakes Nonpareil Pastel. Let this also set in the fridge for a while.
Beat the whipped cream. Put the 50 g FunCakes Mix for Bavarois Natural and 45 ml water in a bowl and add FunCakes Flavour Paste Cherry until the scale indicates 60 g. Stir this well and fold it directly into the creamy whipped cream. Let it set in the fridge for an hour.
Spoon the cherry bavarois into the cookie shot glasses and swirl some Enchanted Cream® on top. Decorate it with a cherry.
Just a little while before you can enjoy your treats. Don't forget to share your creation:
#funcakesbyme