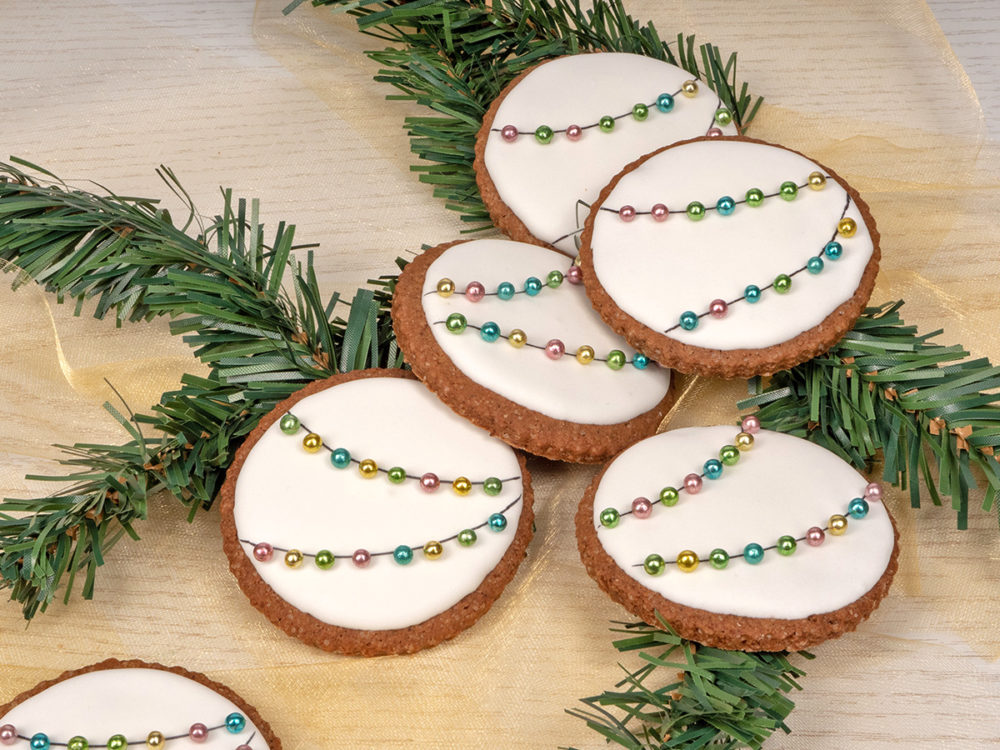 Christmas light cookies
Christmas means a lot of decorating. Walking through the streets you're welcomed by all kinds of Christmas lights, so we wanted to bring some of that into your kitchen by creating these Christmas light cookies.
What you need to make your christmas light cookies:
Ingredients
500 g FunCakes Special Edition Mix for Gingerbread
450 g FunCakes Mix for Royal Icing
FunCakes Suikerparels 4 mm Metallic Harlequin
FunCakes Edible FunColours Brush Food Pen Black
FunCakes Edible Glue
1 egg (approx. 50 g)
60 g unsalted butter
115 ml water
Necessities
Funcakes Decorating Bag
FunCakes Magic Roll-Out Powder
Wilton Metal Cookie Cutter Round 7.5 cm
Wilton Decorating Tip #3
Wilton Parchment Paper
Wilton -Wide Glide- Rolling Pin
Wilton Cooling Grid
Preheat the oven to 180°C (convection oven 160°C).
Prepare 500 grams of FunCakes Mix for Gingerbread as indicated on the package. Cover the dough and let it stiffen in the fridge for at least 1 hour.
Roll out the dough on a flat surface covered with magic roll-out powder (to a 2 – 3 mm thickness) and cut out the cookies. Bake the cookies in the middle of the oven for approx. 10 – 12 minutes until brown. Let the cookies cool down on a cooling grid.
Tip! If you have left over dough, you can freeze it wrapped in plastic.
Prepare 450 grams of FunCakes Mix for Royal Icing as indicated on the package. Dilute the icing with a bit of water until it has the thickness of yogurt. Place tip #3 in the decorating bag and fill with icing. Draw a border around the cookie and fill it up with icing. You can use a tooth pick to push the icing towards the edges. Let the cookies dry overnight.
Use the black pen to draw lines on the hardened cookies and use the glue to paste the pearls on the cookies.
Just a little while before you can enjoy your cookies. Don't forget to share your creation:
#funcakesbyme