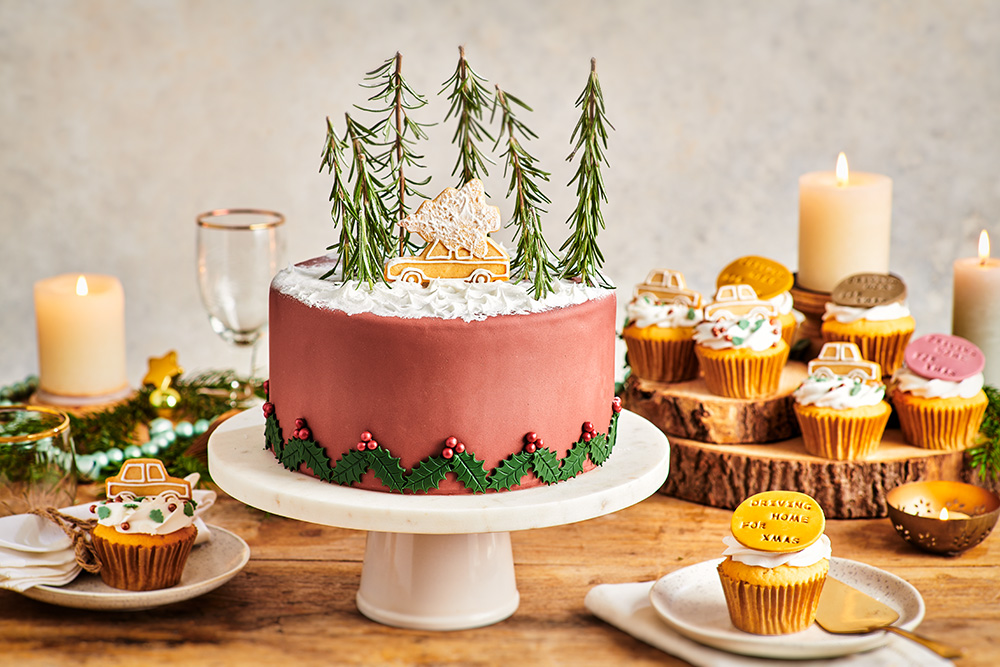 Christmas cake
Now that we get to be together again this Christmas, we are going all out. Driving home for Christmas has never been so nice. Will you make the Christmas dessert this year? Then you can come home with this Christmas cake! A delight to look at and to eat. Merry Christmas!
1 hour and 30 min. preparing
What you need to make your christmas cake:
Ingredients
500 g FunCakes Mix for Cookies
500 g FunCakes Sugar Paste Red Earth
250 g FunCakes Mix for Sponge Cake Deluxe
225 g FunCakes Mix for Royal Icing
150 g FunCakes Sugar Paste Forrest Green
125 g FunCakes Mix for Buttercream
100 g FunCakes Mix for Enchanted Cream®
FunCakes Candy Choco Pearls Medium Bordeaux
FunCakes Flavour Paste Cinnamon
FunCakes Edible Glue
300 g soft unsalted butter
5 eggs (approx. 250 g)
177 ml water
100 ml milk
Rosemary
Necessities
FunCakes Bake Release Spray
FunCakes Decorating Bags 30 cm
Wilton tip #002
Wilton rolling pin
Wilton Recipe Right Non-Stick Cooling Grid - 40x25cm
Wilton Decorator Preferred® Deep Round Pan Ø 20x7,5cm
Wilton Cake Leveler 25 cm
Wilton Parchment Paper
PME Holly Leaf Plunger Cutter Set/3
Patisse Cookie Cutter Christmas Set/4
Cookie Cutter Car 5,5 cm
Cling film
Preheat the oven to 180 °C (convection oven 160°C).
Prepare 500 g FunCakes Mix for Cookies as indicated on the package. Wrap the dough in cling film and let it rest in the refrigerator for at least an hour.
Prepare 250 g FunCakes Mix for Sponge Cake Deluxe as indicated on the package. Spoon the sponge cake batter into the greased baking pan and bake for 30-35 minutes until done. After baking, immediately dump onto a cooling grid to cool.
Knead the cookie dough from the fridge until smooth and roll it out on a floured work surface to a thickness of about 2-3 mm. Cut out cars and Christmas trees. Cut a piece out of some cars with the Christmas tree cutter and put a Christmas tree in it. Press together slightly so that it merges during baking.
Place the cookies on a baking tray lined with parchment paper and bake in a preheated oven at 180°C (convection oven 160°C) in 10-12 minutes until light brown and cooked. Let them cool flat on the counter.
Cookies you have baked are best stored in a metal drum. These tumblers have seams where the moisture from the cookies can escape, keeping them crunchy. If you store them in an airtight drum, they will soften faster because the moisture cannot escape.
Prepare the 125 g FunCakes Mix for Buttercream according to instructions on the package and prepare the 100 g FunCakes Mix for Enchanted Cream® with 100 ml of milk as indicated on the package. With this ratio, the cream is slightly firmer. Save a little for decoration for the top of the cake and season the rest with the flavouring paste.
Cut the sponge cake twice with the cake leveler and fill with the cinnamon Enchanted Cream®. Coat the outside all around with a thin layer of buttercream. Let it set in the fridge.
Knead the FunCakes Sugar Past Red Earth and roll it out. Line the cake with the sugar paste.
Prepare the 225 g FunCakes Mix for Royal Icing with 27 ml water as indicated on the packaging. Put this in a decorating bag with tip #002 and use it to decorate the cookies.
If you have some leftover royal icing, you can cover it well with plastic foil (press it well ON the icing) and use it later. Do mix again on low speed before use. You can keep this on the counter for about 2 weeks.
Roll out the green sugar paste thinly and cut out leaves with the plungers. Stick these with some edible glue along the bottom edge of the cake and decorate with the chocolate pearls.
Stick some rosemary at the top of the cake as Christmas trees and spread some of the white leftover Enchanted Cream® on top of the cake. Put a cookie car with Christmas tree on top, possibly supported with a cocktail stick at the back.
Just a little while before you can enjoy your cakes. Don't forget to share your creation:
#funcakesbyme