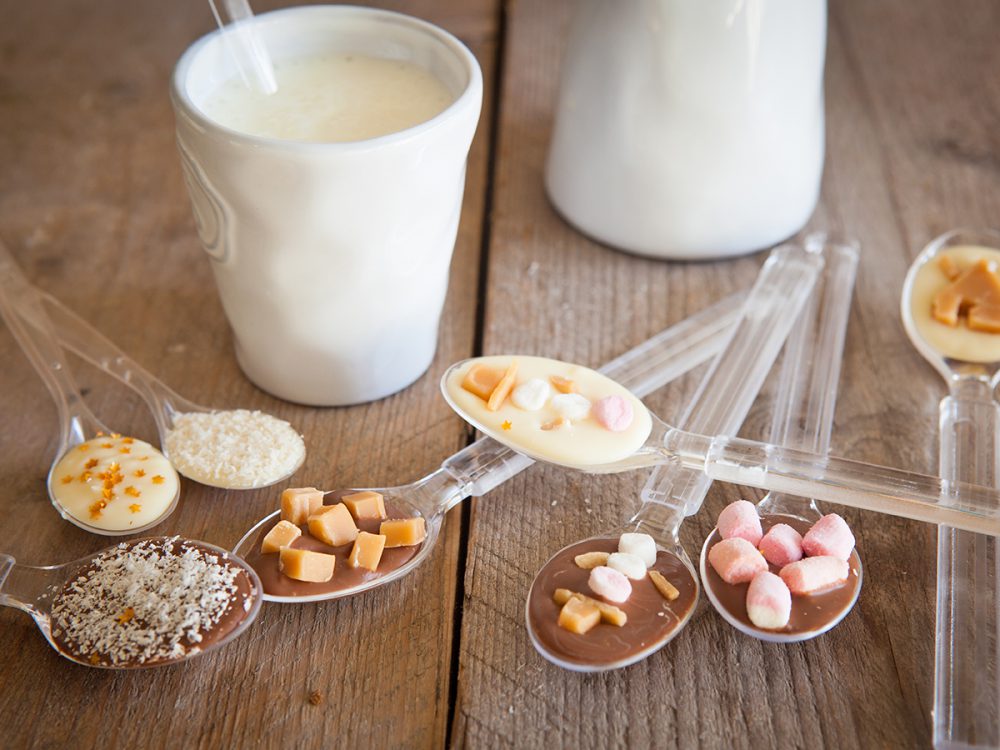 Chocolate spoons for homemade hot chocolate
Winter is coming. Surprise your kids with homemade hot chocolate!
What you need to make your chocolate spoons for homemade hot chocolate:
Ingredients
50 g FunCakes Chocolate Melts Dark, Milk or White
30 g FunCakes Marshmallow Micro
30 g rasped coconut
30 g fudge
Milk
Necessities
8 plastic spoons
Microwave safe bowl
Fill a microwave safe bowl with 50 grams of chocolate. Place this bowl in the microwave. Melt the melts at maximum power (± 800 Watt) and remove the chocolate every 15 to 20 seconds from the microwave to stir it well so that the temperature is spread through evenly. Continue doing this until the chocolate is nearly melted; small pieces of chocolate may still be visible. Stop warming and stir the chocolate well until all the pieces of chocolate are melted and you have a uniform mass of chocolate.
Cut 30 grams of fudge in small pieces. Keep the coconut, the fudge and the marshmallows nearby.
Scoop a spoon full of chocolate and sprinkle the coconut, the fudge and the marshmallows over the chocolate. Let the spoons harden on room temperature.
Heat the milk and stir the spoon in the warm milk. This will melt the chocolate off the spoons and gives you a delicious hot chocolate.
Tip! For a more intense flavour you can melt some extra chocolate.
Just a little while before you can enjoy your chocolate. Don't forget to share your creation:
#funcakesbyme