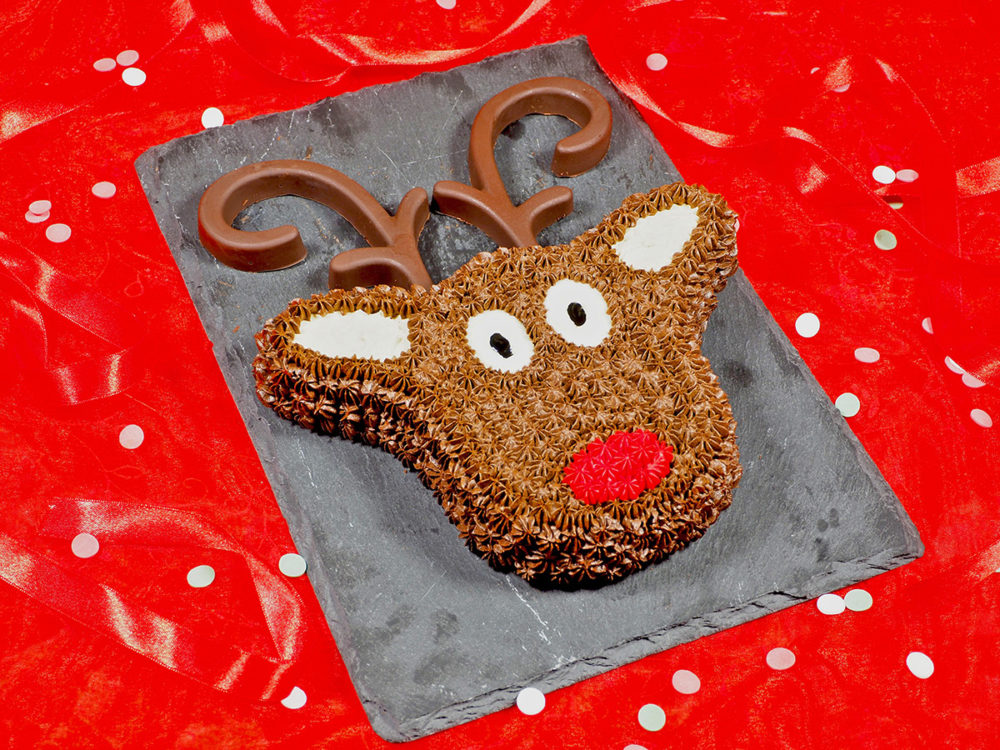 Chocolate reindeer Christmas cake
"Rudolph the red-nosed reindeer had a very shiny nose", is a lyrics that sounds familiar to all of us and that is why we have made a real chocolate reindeer Christmas cake to celebrate the holidays.
What you need to make your chocolate reindeer christmas cake:
Ingredients
500 g Funcakes Mix for Brownie
200 g Funcakes Mix for Buttercream
350 g Funcakes Chocolate Melts Dark
3 ½ - 4 eggs (approx. 190 gram)
200 ml water
500 g unsalted butter
Little bit of FunCakes Fondant Black
Wilton Icing Color - Red Red
Necessities
Wilton rectangular baking pan
Wilton Decorating Bags
Wilton Bake Release Spray
Wilton Decorating Tip #18
Wilton Cooling grid
Wilton Parchment Paper
Google image antlers
Preheat the oven to 180°C (convection oven 160°C).
Prepare 500 grams of FunCakes Mix for Brownies as indicated on the package. Lubicate the baking pan with the baking spray and fill the baking pan with the batter. Bake the brownie in approximately 30 – 40 minutes. Release the brownie on a cooling grid and let it cool down. When the brownie is completely cooled down you can cut out a reindeer head.
Melt 350 grams of chocolate melts in a glaze bowl in the microwave. Melt at maximum power (±800W) in the microwave. To evenly spread the temperature, remove the chocolate every 15/20 seconds and stir well. Stop heating when the chocolate is almost completely melted (small bits of chocolate can still be seen). Keep stirring until the chocolate is dissolved. Fill a decorating bag with the melted chocolate and pipe two antlers on parchment paper. Let it cool down.
Tip! Put the antler image under the parchment paper so you can easily recreate the antlers.
Prepare 200 grams of FunCakes Mix for Buttercream as indicated on the package and divide the batter in thee parts. Colour one small portion red, one small portion stays white and use the bigger portion to whisk it through the leftover melted chocolate. You can add a bit of brown colouring to create a more intense colour. Fill a piping bag with decorating tip #18 and buttercream. Let the buttercream in the decorating bag stiffen in the fridge for at least 5 minutes.
Fill the eyes and ears of Rudolph with a bit of white buttercream using a little knife or spoon. Use a little piece of black fondant to make the pupils.
Cover Rudolph's head completely with stars from the chocolate buttercream and use the red buttercream for the nose.
Get the chocolate antlers off the parchment paper and apply these on top.
Just a little while before you can enjoy your cakes. Don't forget to share your creation:
#funcakesbyme