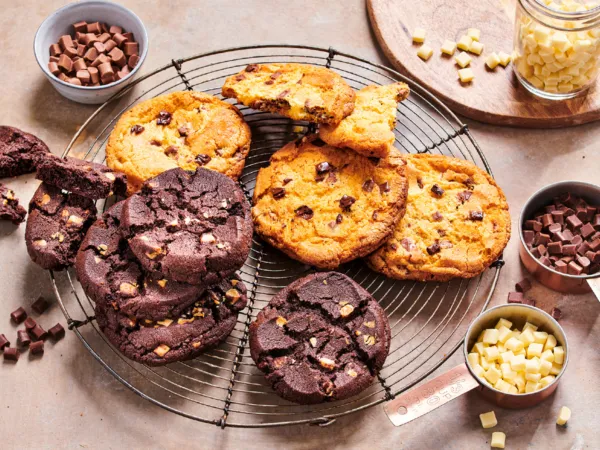 Chocolate chunk cookies
There it is… The recipe for the best chocolate chunk cookies ever! Crispy on the outside and chewy on the inside with delicious chocolate chunks! They are simply irresistible.
What you need to make your chocolate chunk cookies:
Ingredients
400 g FunCakes Special Edition Mix for Dark Choco Cake
FunCakes Chocolate Chunks White
125 g unsalted butter
1 egg (approx.50 g)
Necessities
Wilton parchment paper
Cling Film
Tip! You can also make the cookies with the Mix for Cupcakes for a vanilla variant. Follow the same preparation method but use 400 g FunCakes Mix for Cupcakes, 125 g butter and 1 egg.
Place a sheet of cling film on the counter and make a long sausage about 5 cm in diameter from the dough and roll it tightly in the plastic wrap. Put this in the fridge for 2 hours to let it stiffen.
Preheat the oven to 180°C (convection oven 160°C).
Cut the dough into thick slices of about 2-2.5 cm and place them on the baking tray with enough space in between, because the cakes will run out. Bake the cakes for about 13-17 minutes, make sure they still feel soft after baking. Let the cakes cool on the counter.
Just a little while before you can enjoy your cookies. Don't forget to share your creation:
#funcakesbyme