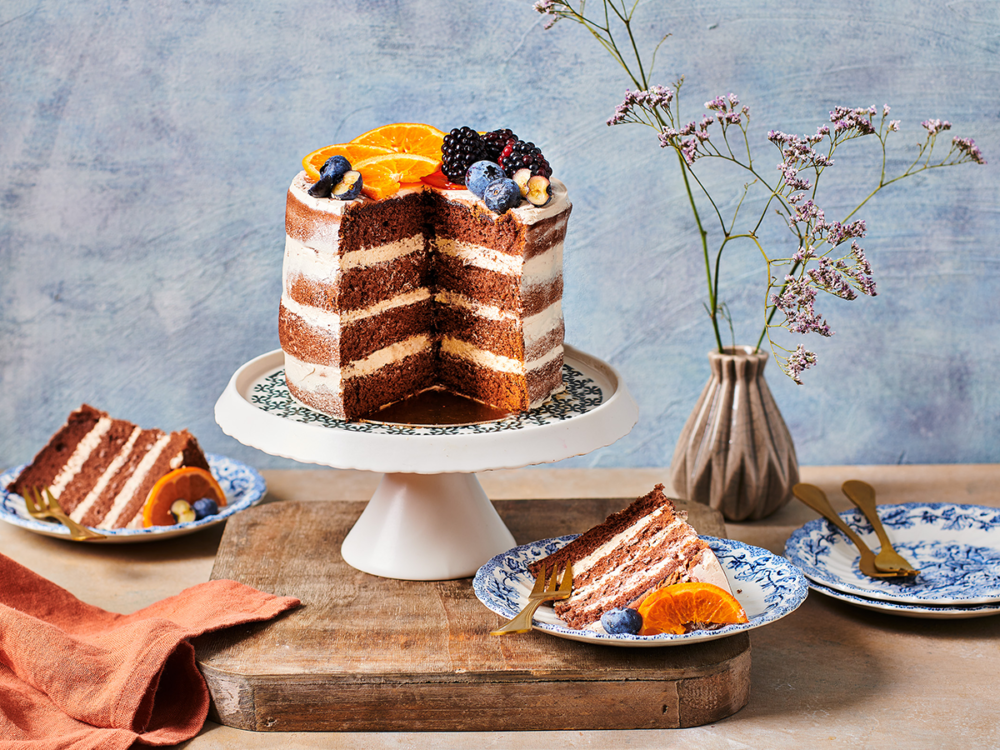 Choco sponge cake with caramel toffee
Hmmm … chocolate, caramel toffee, Enchanted Cream and all kinds of different fruits. And all of that on one cake! You can say that it is the perfect combination.
What you need to make your choco sponge cake with caramel toffee:
Ingredients
380 g FunCakes Mix for Choco Sponge Cake
150 g FunCakes Mix for Enchanted Cream
FunCakes Flavour Paste Caramel Toffee
FunCakes Flavour Paste Orange
200 ml milk
80 ml water
4,5 egg (approx. 220 g)
Orange
Blackberries
Blue berries
Necessities
FunCakes Bake Release Spray
Wilton Decorator Preferred® Deep Baking Pan Round Ø 15x7,5cm
Wilton Decorator Preferred Spatula met Angled 22,5 cm
Wilton cooling grid
Wilton Cake leveler
Preheat the oven to 180°C (convection oven 160°C).
Prepare 190 g of FunCakes Mix for Choco Sponge Cake as indicated on the packaging. Fold the batter into the baking pan and bake the sponge cake for about 25-30 minutes. Place on a cooling grid and allow to cool. Now bake a second sponge cake in the same way with the same quantities.
Prepare 150 g of FunCakes Mix for Enchanted Cream® as indicated on the package and flavour with the FunCakes Flavor Paste Caramel Toffee and the FunCakes Flavor Paste Orange. Cut both sponge cakes in half, start and end with a bottom of a baked sponge cake because it is nice and flat.
Stack the layers on top of each other with the flavored Enchanted Cream® and cover all around with a thin layer of this. Decorate the top of the cake with thin slices of orange, blackberries and blueberries.
Just a little while before you can enjoy your cakes. Don't forget to share your creation:
#funcakesbyme