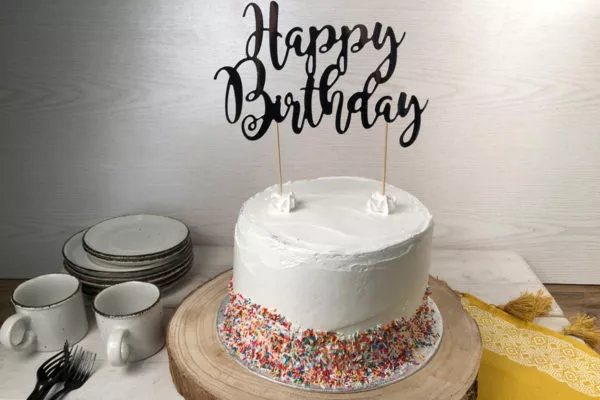 Choco birthday cake
A birthday is a beautiful day! Surprise yourself or someone else with this chocolate cake. Everyone can make this delicious cake. So go ahead and make the day unforgettable!
What you need to make your choco birthday cake:
Ingredients
500 g FunCakes Mix for Choco Sponge Cake
300 g FunCakes Mix for Enchanted Cream®
FunCakes Sugar Strands Colour Mix
6 eggs (aprox. 300 g)
310 ml water
Necessities
FunCakes Decorating Bags
FunCakes Cake Board Ø 22,5cm
FunCakes Bake Release Spray
Wilton Deep Round Pan Ø 20 X 7,5 cm (2x)
Wilton cooling grid
Wilton spatula angled
Wilton spatula straight
Wilton tip #1M
Wilton icing smoother
Cake Topper Happy Birthday
Preheat the oven to 180°C (convection oven 160°C).
Prepare 500 g of FunCakes Mix for Choco Sponge Cake as indicated on the package. Grease the baking pans with FunCakes Bake Release Spray and divide the batter into two baking pans. Bake the cake for 30-35 minutes in the middle of the preheated oven. Let the cakes cool down on a cooling grid.
Cut both cakes in half. Fill the layers with Enchanted Cream® and place the layers back on top of each other.
Cover the cake with a generous layer of Enchanted Cream®. Use the icing smoother to create an even layer, but keep it a bit messy for a playful effect. Leave the cake in the fridge for an hour in order for it to stiffen. Spoon the remaining Enchanted Cream® into a decorating bag with tip #1M.
Decorate half of the cake with the sugar strands. Place the cake topper on top the cake and finish the cake with tufts of Enchanted Cream®.
Just a little while before you can enjoy your cakes. Don't forget to share your creation:
#funcakesbyme