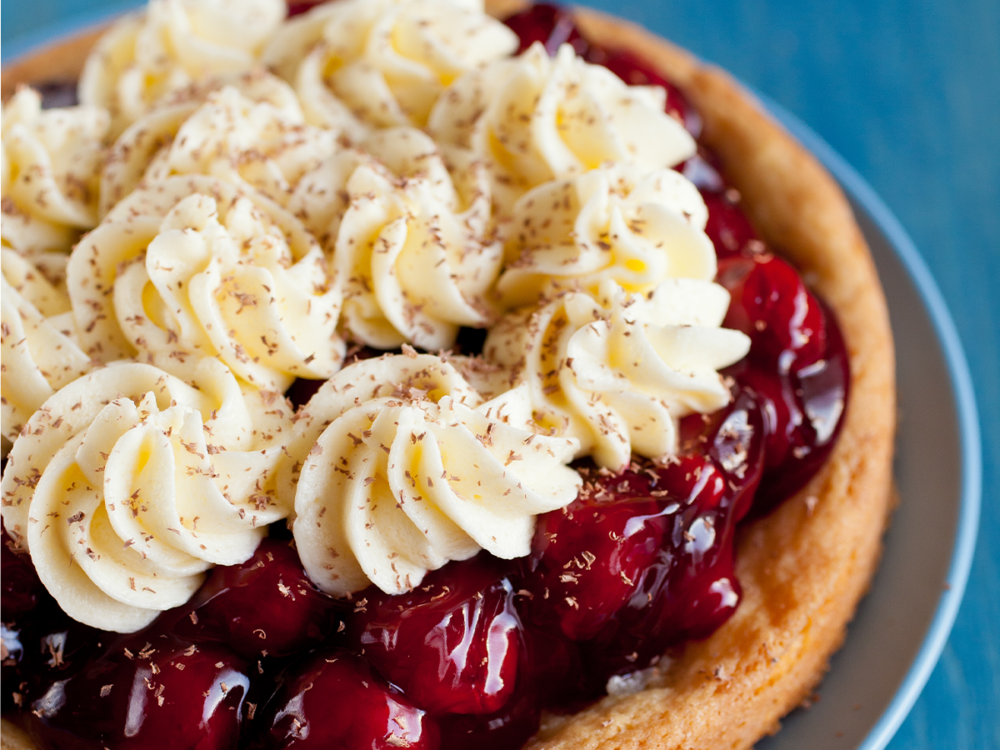 Cherry cake
A simple cake, but oh so delicious! A cookie base with almond paste and pastry cream in the middle and covered with cherries … Hmm, too good right?
What you need to make your cherry cake:
Ingredients
500 g FunCakes Mix for Cookies
100 g FunCakes Mix for Pastry Cream
100 g FunCakes Almond paste
150 g unsalted butter
10 g beaten egg
1 egg (ca. 50g)
1 jar / tin of cherry pie filling or cherry jam
Whipped cream
Necessities
FunCakes decorating bags
Wilton decorating tip # 1M
Wilton cooling grid
Patisse Silver-Top Springform pan Ø24cm
Preheat the oven to 180°C (convection oven 160°C).
Prepare 500 g of FunCakes Mix for Cookies according to the instructions on the package. Let the dough rest for at least 1 hour.
Knead the almond paste well with the egg. Roll out the cookie dough into a piece about 1 centimeter thick. Cover a greased and floured springform pan with this. Cover the piece with pieces of almond paste, up to about 1 centimeter from the edge.
Now pipe a layer of pastry cream on the cake. Stay approx. 8 mm from the edge. Bake the cake in 20-25 minutes until golden brown. Let the tart cool down using a cooling rack.
Fill the cake with the cherry pie filling or jam and decorate the cake with whipped cream or buttercream as desired.
Just a little while before you can enjoy your cakes. Don't forget to share your creation:
#funcakesbyme