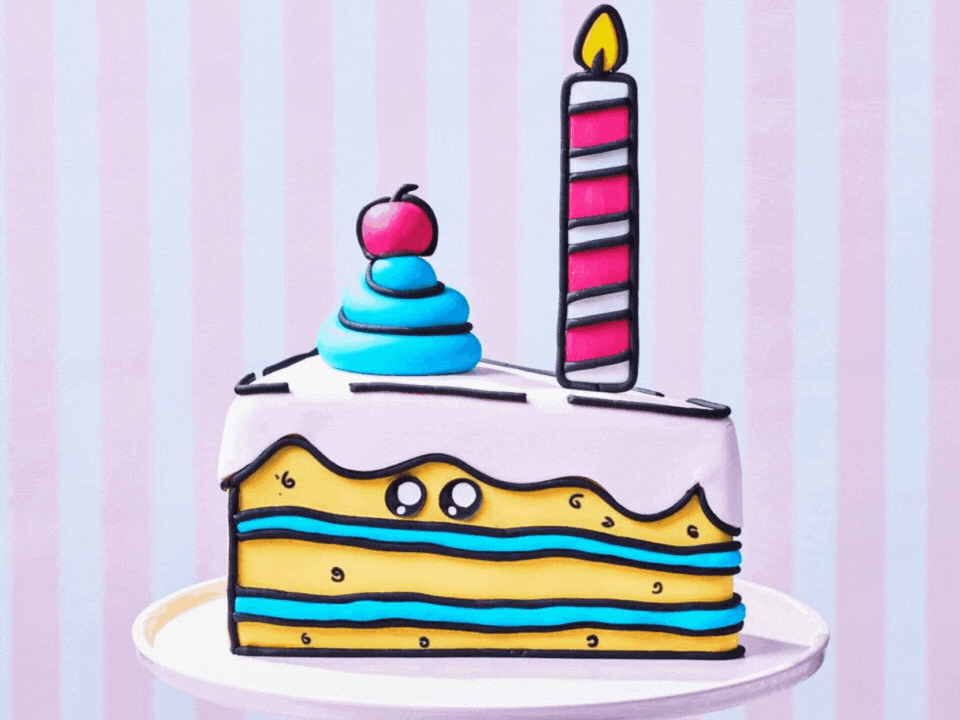 Cartoon cake
A long-running trend and we couldn't resist joining in and making a recipe with it! It's the cartoon cake trend. Making a cake as if it were a cartoon. How cool is that? Dive right into the cartoon cake world and make your own cake. Super easy, and guaranteed to be trendy!
1 hour and 30 min. preparing
What you need to make your cartoon cake:
Ingredients
500 g FunCakes Mix for Cupcakes
125 g FunCakes Mix for Buttercream
800 FunCakes Sugar Paste Bright White
125g FunCakes Sugar Paste Raven Black
FunCakes Flavour Paste Cola
FunCakes Food Colour Gel Pink
FunCakes Food Colour Gel Light Beige
FunCakes Food Colour Gel Yellow
FunCakes Food Colour Gel Turqoise
FunCakes Edible Food Pen Black
FunCakes Edible Glue
FunCakes Bake Release Spray
Crisco
400 g unsalted butter
125 ml water
5 eggs (approx. 250 g)
Necessities
Wilton Comfort Grip Spatula Angled 22,5 cm
Wilton Wide Glide Rolling Pin 50 cm
Pme Modelling Tools, Sugarcraft Knife
Scrapcooking Fondant Extruder
Patisse Silver-Top Baking Pan 39,6x27,5cm
Patisse Parchment Paper 38x30cm pk/20
Silikomart popsicle sticks
Dr. Oetker Fondant Smoother set/2
Preheat the oven to 180°C (convection oven 160°C) and line the baking tray with a sheet of parchment paper. Spray the edges with FunCakes Bake Release Spray.
Prepare 500 g FunCakes Mix for Cupcakes as directed on the package. Spread the cake batter over the baking pan. Bake for about 20-25 minutes until light brown and let the cake cool down. Cut 4 equal 'cake' points from the slice of cake.
Prepare 125 g FunCakes Mix for Buttercream as directed on the packege. Finish the Buttercream further and flavour with the FunCakes Flavouring paste Cola.
Lay the cakes on top of each other with a layer of buttercream and spread the outside all around with buttercream. Let this set in the fridge for half an hour.
Colour around 450 g FunCakes Sugar Paste Bright White in a cake colour, using the yellow and beige colouring gel together. Colour 150 g light pink and 150 g light turquoise. You leave 50 g white.
Roll out the cake-coloured sugar paste into an oblong piece and line the side of the cake tip with it. Using the smoothers, make it nice and smooth and tight.
Roll out the pink sugar paste thinly and place the piece on top of the cake. Cut a wavy edge, like a drip, with the sharp knife and glue the edges with some FunCakes Edible Glue.
Roll thin rolls of the turquoise sugar paste and stick them against the cake, it's okay to be a bit irregular.
Knead the black sugar paste smoothly with a good amount of crisco and make long ribbons using the extruder. Stick these ribbons on the cake with some edible glue.
Use the edible marker to add some accents here and there.
Make a thick roll of turquoise sugar paste and twist it together. Put a pink ball on top of this and give it all a black line. Flatten the candle on your work surface and stick an ice stick on the back. Let this dry.
Finally, stick the 'swirl' onto the cake with some edible glue and prick the candle into it.
Just a little while before you can enjoy your cakes. Don't forget to share your creation:
#funcakesbyme