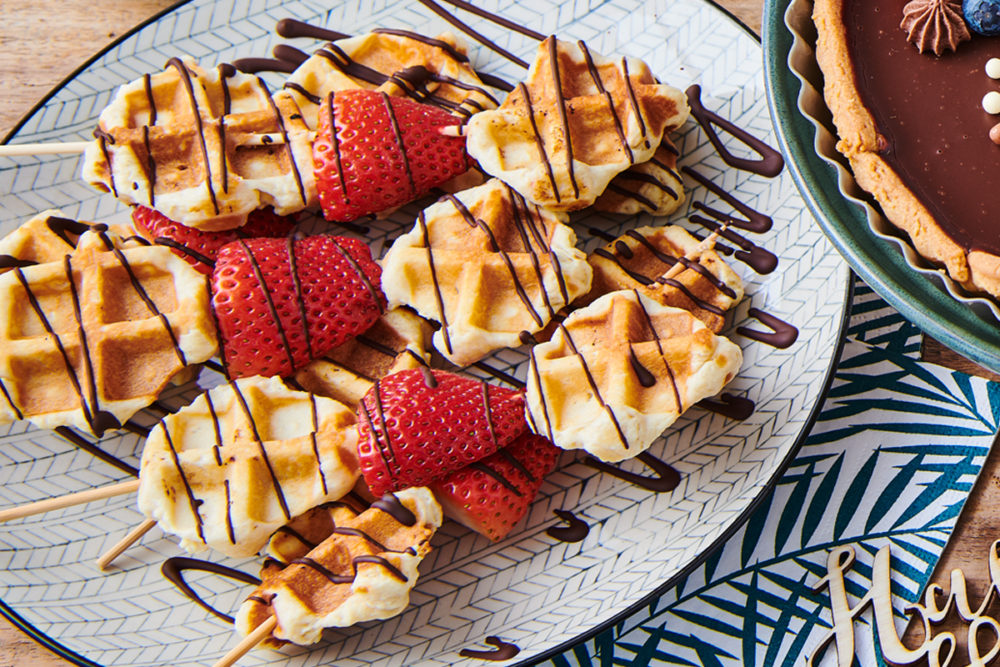 Waffle sticks with strawberries and chocolate
Ingredients
500 g FunCakes Mix for Sweet Waffles
50 g FunCakes Chocolate Melts Dark
150 g unsalted butter
175 ml water
1 egg (approx. 50 g)
Strawberries
Necessities
FunCakes Bake Release Spray
FunCakes Fineliner Decorating Bags
Waffle iron
Skewers
Prepare 500 grams of FunCakes Mix for Sweet Waffles as indicated on the package. Grease the waffle plates with baking spray. Roll small balls of 15 – 20 grams and place two balls diagonally per plate. Bake the mini waffles in about 3 – 4 minutes until slightly browned and cooked.
Cut all the strawberries ones. Stick the mini waffles and the halves strawberries on a skewer.
Pour 50 grams of chocolate melts in a bowl suitable for the microwave. Melt at maximum power (± 800 W) in the microwave. To evenly spread the temperature, remove the chocolate every 15 – 20 seconds and stir well. Stop heating when the chocolate is almost completely melted (small bits of chocolate can still be seen). Keep stirring until the chocolate is dissolved. Put the melted chocolate in a fineliner decorating bag. Cut off a small tip and drizzle the chocolate over the sticks.
Just a little while before you can enjoy your treats. Don't forget to share your creation:
#funcakesbyme