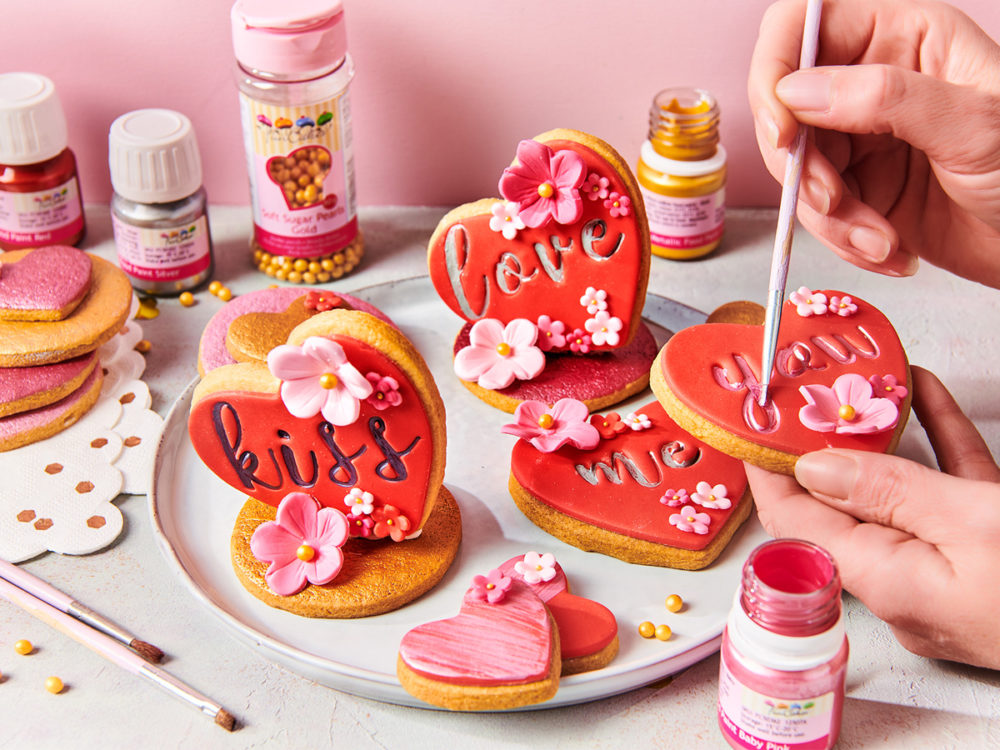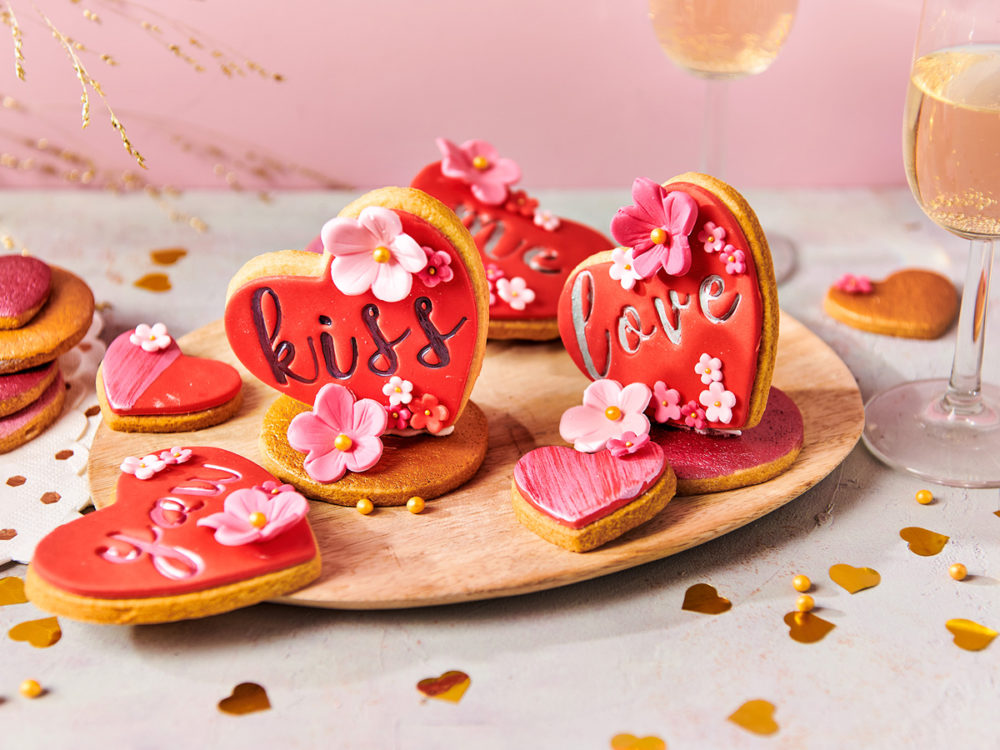 Valentines cookies
Do you love me too? Tell your Valentine that you like hem or her with a little help of these sweet and delicious cookies
1 hour and 30 min. waiting
Ingredients
500 g FunCakes Mix for Cookies
350 g FunCakes Fondant - Red
50 g FunCakes Fondant – Hot Pink
50 g FunCakes Fondant – Light Pink
50 g FunCakes Fondant – Pink
100 g FunCakes Mix for Royal Icing
30 ml FunCakes FunColours Metallic Food Paint - Dark Gold
30 ml FunCakes FunColours Metallic Food Paint - Silver
30 ml FunCakes FunColours Metallic Food Paint – Baby Pink
60 g FunCakes Soft Pearls Gold
80 g FunCakes Nonpearls Gold
FunCakes Clear Piping Gel
1 egg (approx. 50 g)
150 g unsalted butter
Necessities
FunCakes piping bags
FunCakes Magic Roll-Out Powder
Wilton -Perfect Height- Rolling Pin
Wilton cooling grid
Wilton parchment paper
PME cutter heart
PME Fun Fonts Alphabet
PME Flower Blossom Plunger Cutter
PME Craft Brush Set
Silikomart Sugarflex Veiner -Mini Daisy-
Round cookie cutter pro Ø 7 cm
Plastic foil
Skewer
Preheat the oven to 180°C (convection oven 160°C).
Prepare 250 grams of FunCakes Mix for Cookies as indicated on the package. Cover the dough with plastic foil and let it stiff in the fridge for at least one hour. Knead the dough well and roll out the dough on a surface covered with Magic Roll out powder till a thickness of 2 mm. Cut out some hearts.
Spray a baking tray with bake and release spray and divide the cookies over it. Bake all cookies in 12 – 16 minutes and let them rest on the cooling grid. Press with letter stamps some words in the fondant.
Roll out a very thin layer of all three colours fondant on a surface covered with Magic Roll out powder. Stick out with different flowers with the plungers and Silikomart. Paint the inside of the letters with the matellic food paint and a thin brush. Use the biggest sixe of brush to paint the cookies.
Grease the cookies with a thin layer of piping gel and stick the matching fondant hearts on it. Stick the flowers with a little bit of piging gel on the cookies en paste also some pears and nonpearls.
Just a little while before you can enjoy your cookies. Don't forget to share your creation:
#funcakesbyme