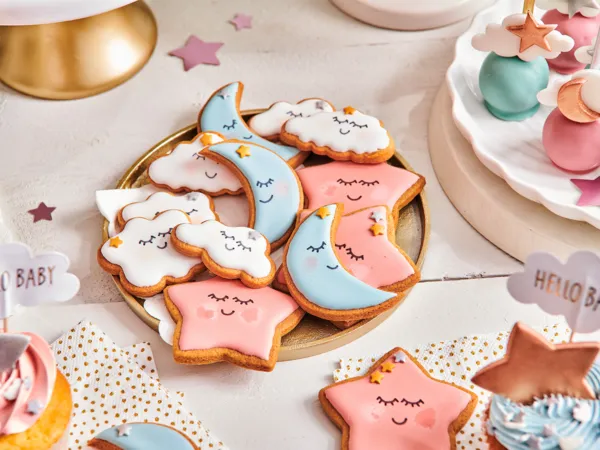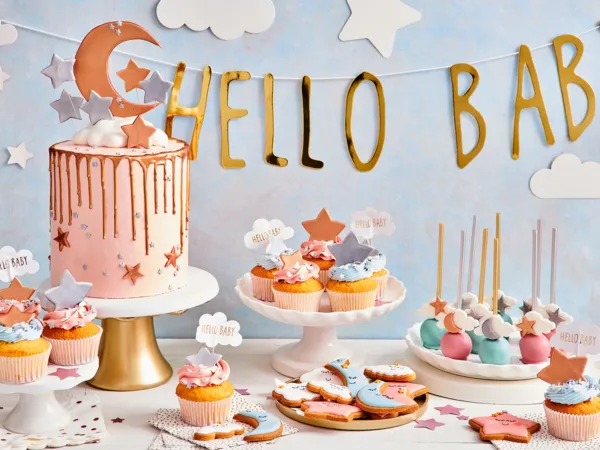 Twinkle Twinkle cookies
It is baby time! Do you want to bake cute, trendy and babyshower proof cookies? Then this is the perfect recipe for you. Welcome a baby with the perfect cookies.
2 hour and 45 min. preparing
What you need to make your twinkle twinkle cookies:
Ingredients
500 g FunCakes Mix for Cookies
900 g FunCakes Mix for Royal Icing
FunCakes Food Colour Gel Peach
FunCakes Food Colour Gel Black
FunCakes Food Colour Gel Light Beige
FunCakes Food Colour Gel Baby Blue
FunCakes Food Pen Black
FunCakes Sparkle Dust Pink
FunCakes Stars Silver
FunCakes Stars Gold
FunCakes Edible Glue
150 g unsalted butter
110 ml water
1 egg (approx. 50 g)
Necessities
FunCakes Decorating Bags
Wilton Decoration Brushes Set/5
Wilton Parchment paper
Wilton Rolling Pin 50cm
Wilton Standard Adapter/Coupler
Wilton Tip #003 Round
PME Modeling Tools Needle
PME Star Cutter Set/6
FMM Cloud Cutter Set/5
Cookie Cutter Ring Pro Ø 7 cm
Prepare 500 g FunCakes Mix for Cookies according to the instructions on the package. Wrap the cookie dough in cling film and put it in the fridge for at least an hour.
Preheat the oven to 180°C (convection oven 160°C).
Knead the dough from the refrigerator well and roll it out on a floured work surface to a thickness of about 2-3 mm. Use the round cutter for the moon. Cut out as many cookies as you have dough with the different cutters. Place the cookies on a baking tray lined with baking paper and bake them in a preheated oven for 10-15 minutes until golden brown and let them cool flat on the counter
Prepare 900 g FunCakes Mix for Royal Icing according to the instructions on the package. Divide it among 3 bowls. Dilute the Royal Icing with a little water until you have a yogurt thickness. The 10 second rule applies here. When your Royal Icing runs off your spoon, it should be a smooth mirror in your bowl in 10 seconds. If your Royal Icing is too thick, it will not flow nicely and if it is too thin, it will run off your cookies.
Color 1 cup of diluted FunCakes Royal Icing with the baby blue color gel and a tip of black color gel to get old blue and color 1 cup with the peach and beige color gel to get old pink.
Put these bowls under a wet tea towel for fifteen minutes, so it does not dry out and the air bubbles can come up. After fifteen minutes, pierce the air bubbles and put it in a decorating bag with adapter and tip #003.
Fill the biscuits with the diluted Royal Icing and use the needle tool to get into the corners with a rotating movement. Let this air dry for 24 hours or put the cookies in the oven at 50°C for 1 to 2 hours. Air-drying is preferred.
When the cookies are dry, draw eyes and mouths on the cookies with the black marker. With some FunCakes Edible Glue you stick a gold and/or a silver star here and there. With the FunCakes Edible Color Powder Pink you give the cookies pink blushes with a soft brush.
Just a little while before you can enjoy your cookies. Don't forget to share your creation:
#funcakesbyme