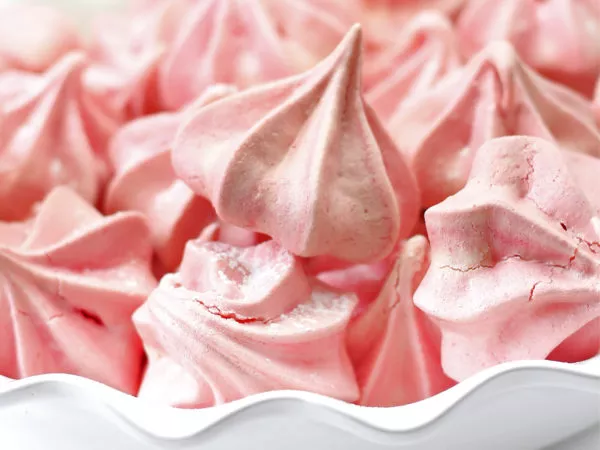 Strawberry meringues
These strawberry kisses are one of the tastiest strawberry flavoured meringues we have ever tasted. This simple recipe is therefore perfect as a last-minute Valentine gift or if you just feel like eating delicious meringues.
What you need to make your strawberry meringues:
Ingredients
20 g FunCakes Egg White Powder
125 g FunCakes Icing Sugar
2 tbsp FunCakes Flavour Paste -Strawberry-
FunCakes FunColours Paste Food Colour – Pink
125 g granulated sugar
120 ml water
10 g corn flour
Necessities
FunCakes Decorating Bags
Wilton Decorating Tip #1M
Wilton Parchment Paper
Preheat the oven to 120°C (convection oven 100°C).
Mix 20 grams of egg whites with 120 ml of water. Beat the egg whites together with 125 grams of granulated sugar until you can draw peaks. Carefully whisk 125 grams of icing sugar and 10 grams of corn flour through the egg white mixtures. Colour the mixture using the pink food colouring and add 2 tablespoons of strawberry flavouring.
Place decorating tip #1M in the decorating bag and fill the bag with the egg white mixture. Cover a baking plate with baking paper and spray small puffs on the baking paper.
Place the baking plate in the oven and bake the kisses in the middle of the preheated oven in approx. 1 hour.
Just a little while before you can enjoy your treats. Don't forget to share your creation:
#funcakesbyme