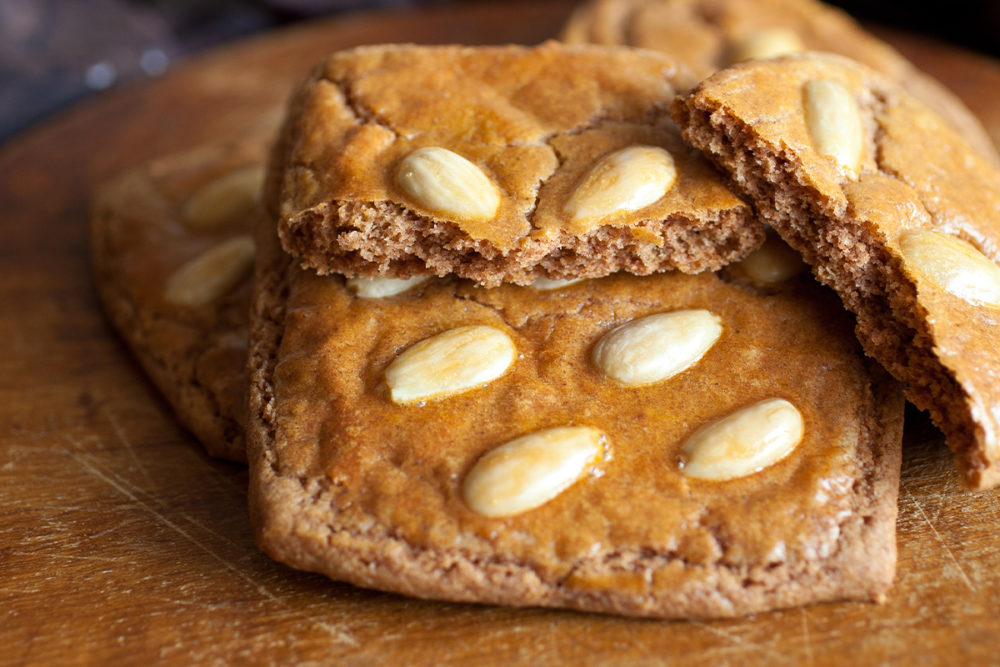 Speculoos chunks
You bake the tastiest speculoos chunks yourself! The advantage is that your kitchen will smell divine, isn't that wat you want?
What you need to make your speculoos chunks:
Ingredients
500 g FunCakes Mix for Cookies
315 g unsalted butter
30 g FunCakes Speculoos Spices
3 eggs (aproxx. 150 g)
Halved almonds or almond pieces
Necessities
Cling Film
Parchment paper
Put the 500 g FunCakes Mix for Cookies, the butter, 2 eggs and the speculoos spices in a bowl and knead or mix into a ball. Let the dough rest for at least 24 hours, wrapped in cling film, so that the speculoos spices can absorb well into the dough.
Preheat the oven to 175 ° C (convection oven 160 ° C).
Knead the dough again and roll it out on a floured surface to a dough sheet of about 1 centimeter thick. Provide a baking tray with parchment paper.
Cut out square pieces of about 8 by 8 centimeters from the dough and place them on the baking tray. Beat the egg with a fork and brush the tops of the dough with egg. Then place the almonds on top and brush the whole thing again with egg. Bake the speculoos chunks for about 25 minutes in the middle of a preheated oven.
Just a little while before you can enjoy your cookies. Don't forget to share your creation:
#funcakesbyme