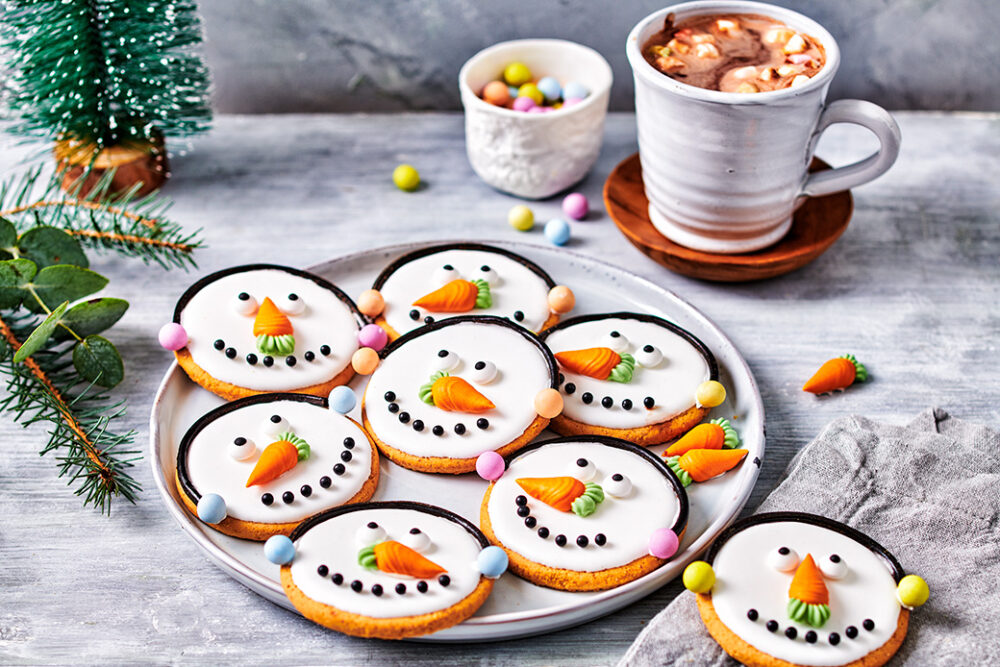 Snowman cookies
An easy but fun recipe for snowman cookies! Put on a Christmas song, roll up your sleeves and decorate the cookies together with the kids.
1 hour and 30 min. preparing
What you need to make your snowman cookies:
Ingredients
500 g FunCakes Mix for Cookies
450 g FunCakes Mix for Royal Icing
FunCakes Candy Choco Pearls Large Matt Mix
FunCakes Sugar Decorations Carrots
FunCakes Sugar Decorations Eyes
FunCakes Sugar Pearls Medium Black Shiney
FunCakes Magic Roll-out Powder
150 g unsalted butter
55 ml water
1 egg (approx. 50)
Licorice laces
Necessities
FunCakes Decorating Bags
Wilton Tip #003 Round
Wilton Standerd Adaptor/coupler
Wilton Parchment Paper
Wilton Wide Glide Rolling Pin 50cm
Cookie Cutter Ring Pro Ø 7 cm
Cling film
Prepare 500 g FunCakes Mix for Cookies according to the instructions on the packaging, wrap in cling film and leave in the fridge for at least an hour.
Preheat the oven to 180°C (convection oven 160°C).
Knead the dough from the fridge and roll it out on a work surface dusted with Magic Roll-out Powder to a thickness of approx. 2-3 mm. Cut out rounds with the cutter and place them on the baking tray. Bake the cookies in about 10-12 minutes golden yellow and let them cool down on the counter.
Prepare 450 g FunCakes Mix for Royal Icing according to the instructions on the packaging. Then thin the icing with a little water until it has the thickness of a yoghurt. Add the water gradually. If your icing is too thin it will drip off your biscuit and if your icing is too thick it will not flow nicely.
Tip! follow the 10 second rule for this: the thinned icing should form a smooth mirror again in 10 seconds when you let it run off your spoon.
Put the diluted icing in a piping bag with adaptor and nozzle #003 and use this to coat the biscuits. Let it dry in the air, preferably overnight, so that you know for sure that the icing has hardened properly. Cover the icing that remains with a piece of plastic foil and a wet cloth.
Cut the liquorice laces to size and glue them along the edge of the biscuit with some icing. Glue two FunCakes Candy Choco Pearls Large Mat with some icing under the ends of the liquorice laces. Stick the eyes, carrots and black pearls with some icing and let it dry.
Just a little while before you can enjoy your cookies. Don't forget to share your creation:
#funcakesbyme